I was working as a Professor of Education in New York when I started looking for a solution to teach my daughter Chinese.
I really wanted to raise a bilingual and bi-literate kid! And I didn't want my daughter to merely be able to read and write in another language. I also wanted her to be able to communicate cross-culturally, and engage in cultural conversations.
At the same time that I was searching for a language-learning solution, I was also immersed in the comics-making and comics-in-education community in New York.
We had just created the Dim Sum Warriors graphic novels and every year, we would participate in New York Comic Con, where besides the creators, readers and cosplayers, teachers from different fields would also get together as part of their professional development to discuss the benefits of reading comic books and how they were using comics in the classroom. (Here's a picture of me with Joey Mazzarino—the head writer at Sesame Street—at our booth at New York Comic Con. He was one of the very first people—if not THE first person—to buy our graphic novel!)
In several sessions for educators at New York Comic Con, teachers talked about the benefits of reading comic books including, providing great motivation for reluctant readers; how using comics in the classroom  allowed teachers to teach difficult concepts in different subjects such as science more engagingly; and how comics in the classroom really got kids to create works themselves.
Award-winning comics creator and teacher Gene Luen Yang has been a particularly important voice in the field of comics-in-education and has summarized the benefits of reading comic books on his page: https://www.geneyang.com/comicsedu/history.html (Gene was also one of the earliest to give Dim Sum Warriors a very nice blurb! Here's a picture of him with us at our booth at the Brooklyn Book Festival.)
Why do comics for kids work?
Comics are great multimodal text examples
Comics are great because they communicate through multimodal or multisensory channels, whereas most textbooks focus on using text as the primary mode of communication.
What this means is that in comics, the meaning on the page is communicated through multiple modes: story, character, picture, words, sound effects, motion lines, expressions.
Just look at this page from MY WAY IS THE BEST 我的方法最好.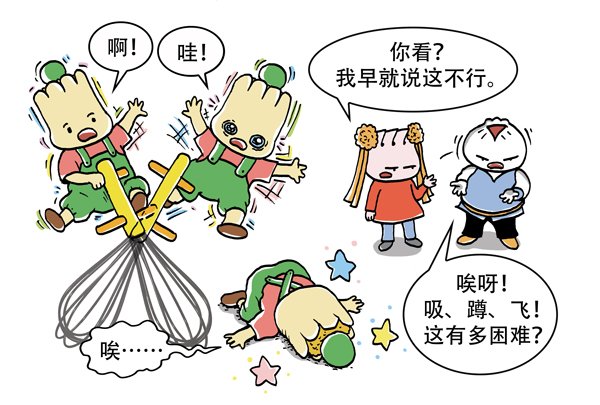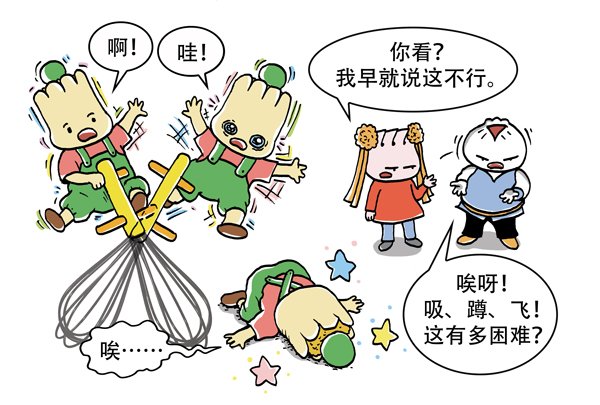 Even if you don't know how to read the Chinese text, you can guess that Shaomai (the character on the left) is struggling and has fallen down. His wavy word balloon indicates he is groaning or making some unsteady sound. Meanwhile, Xiajiao's and Baozi's expressions clearly indicate their disapproval. The image and text together makes it a multimodal text,  providing scaffolding towards comprehension.
Kids love comics!
Comics and cartoons are also great because kids are just naturally drawn to them. They don't need reading encouragement when it comes to comics.  It's one of the ways to encourage students to read.
Additionally, comics and graphics can explain more difficult concepts than text alone—and this applies to grownups as well as children. Imagine trying to grasp a complicated process without the help of an infographic!
Science teachers have also found comics to be great for teaching scientific concepts. For example, try asking kids to create a superhero with a concept such as photosynthesis, and then the nemesis of photosynthesis. Here's a great example: https://www.sciencefriday.com/educational-resources/science-comics-a-creative-gateway-into-literacy-and-stem/
Math teachers have also used comic characters to embody math concepts. See for example:
One of the benefits of reading comic books is that while the textual reading ability of kids may be basic, pictures enable them to process and express more complex subjects. We were surprised when our daughter, at a very young age, knew all the planets without us or the school teaching it. When quizzed, she revealed that she'd learned it from Sailor Moon. Here's a picture of Sailor Moon she drew when she was 7: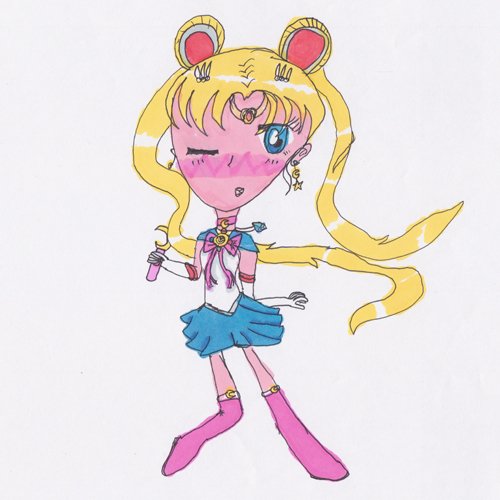 One of the Benefits of Reading Comics is Kids Get Inspired to Create!
In addition, many teachers find that exposure to comics makes kids want to write and/or draw their own comics. And all they need is paper and a pen or pencil—no other equipment necessary! So comics is a very accessible and affordable mode of creating.
I also saw in my own daughter's development how drawing and combining words and pictures on a page allowed her to express thoughts that were perhaps too complex to be expressed with her limited vocabulary at the time. But with both English and Chinese, being able to depict what she felt in words and pictures made her feel stronger and more confident with expressing her thoughts. Here's a piece she did in her first year at a Taiwanese public school, not long after we'd just arrived and she'd only started learning to read and write in Chinese. It got exhibited on a class notice board: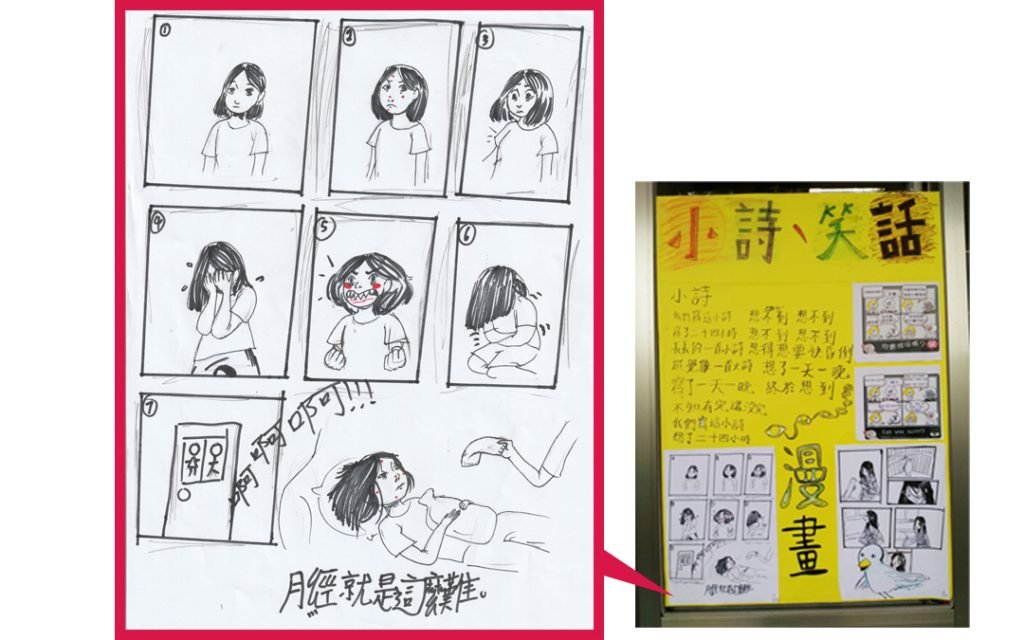 We have also worked with many kids—both in their classrooms and during our online draw-along sessions—and have seen firsthand how, when they are drawing and chatting at the same time, they become very focused.
The kids also enjoy the process of sharing their own illustrated interpretations of the subjects, which often leads to very high quality discussions, as well as deeper learning and retention. Here's an example: https://www.dimsumwarriors.com/doodle-date-how-do-you-say-different-types-of-clothes-in-chinese-part-2/].
So much better than passively scrolling through YouTube!
You can find more resources explaining the power of comics for learning through these resources:
What are the challenges in using comics in the classroom?
There are, of course, some challenges to using comics for teaching.
◾ It can be hard to choose the right comics. Many parents and teachers worry about inappropriate images in comics. For instance, although there are many great Japanese manga, it is entirely possible that despite very cutesy art, a naked body part or sexual image might pop up. If you're concerned about this, a good resource is the recommendations of the School Library Journal, which will indicate such elements in their reviews of graphic novels and comics. We are currently compiling our own resources for suitable Chinese comics.
◾ Using comics to teach can be hard if you didn't grow up reading them. Comics have a grammar of their own, and there are very few comics which are specifically designed for education. (And even fewer are both educational and entertaining.) Extracting teaching content may involve extra work, whereas it's much easier to use textbooks, where the content is already extracted and even leveled, with worksheets and pointers provided, to assure teachers that we are on the right track.
◾ And using comics to teach both subjects and creativity can be extra hard if you you've never created using the comic medium yourself.
How can we maximize the benefits of reading comics while overcoming the challenges of using comics in the classroom?
At Dim Sum Warriors, we have been working on one possible solution to help teachers and parents (and we would certainly like to hear about any innovative solutions and ideas for working with comics)!
The Dim Sum Warriors Solution
The Dim Sum Warriors solution provides tools that parents and teachers need to help kids learn languages creatively through comics.
This solution emerged from many years of research, thinking, writing and conversations with other professional educators as a Professor of Education. I also hold the deep conviction that what kids really need in the future is not a mere accumulation of vocabulary, or simply knowing the rules of a particular language's usage. What kids need is a whole way of navigating between different languages that enables them to play, communicate, create, and take risks across languages and cultures. 
These are what the Organisation for Economic Co-operation and Development (OECD) calls "21st Century Skills and Competences" – collaboration, communication, creative and critical thinking.
The OECD has added to their list the goal of Global Competence Framework, which the international PISA test (the international benchmark for education attainment against which all countries are evaluated) has already started measuring. Global competence is believed to enable our kids to be happy, adventurous, and successful in an uncertain and globalized world.
At Dim Sum Warriors, we make multimodal bilingual comics that kids can read conveniently and consistently to spark their interest and increase their confidence in languages and creativity.
And we support parents and teachers by providing:
High quality, kid-friendly comics through the Dim Sum Warriors App and our printed books.
Guidance for using comics in the classroom and at home through lesson plans and activities that are designed to help kids build 21st Century competencies.
Support for integrating language learning with creative activities through our livestream and recorded videos.
You can use Dim Sum Warriors tools to:
⏰ Set learning goals.
⏰ Practice reading daily, e.g. use the Dim Sum Warriors App to practice reading at least 5 pages aloud every day.
⏰ Practice writing and drawing daily, e.g. print out lesson plans and worksheets for kids to work through the vocabulary in the books.
⏰ Draw and expand vocabulary weekly: Attend the Bilingual Comic Jam sessions for creative drawing lessons and inspiration, and interact with our artists and language teachers.
**Schools and teachers can use our tools and syllabus to provide a 50-50 blended reading program for the elementary years.
This means that through the Dim Sum Warriors Club resources, you can get your kids to:
master reading whole books aloud;
learn the vocabulary in each book; and
learn drawing skills to create their own comics!
All at a pace that you decide!  The Dim Sum Warriors Club harnesses the benefits of reading comic books  for learning, while also solving the primary challenges that parents and teachers encounter. Give it a try!
---
If you have any questions or topics that you would like me to cover in the areas of education and parenting, please send me an email at yenyen@dimsumwarriors.com. I check all my emails personally and look forward to your questions. However, if you're a student who's trying to ask me to do your homework or project for you, I will most likely not have time to respond because I get way too many of those emails and it's quite impossible to answer them all.