How do you say "Swiss Roll Mouse" or "Bittergourd Godzilla"? Or other silly combinations of food and animals?
Check out our video of yet another crazy Dim Sum Warriors Bilingual Doodle Date—where our artist Colin draws the wacky things kids suggest, while former professor Yen Yen and certified Taiwanese schoolteacher Teacher Hsiao help to translate them into Chinese.
Description
In this  Doodle Date, we mash up Food 食物 and Animals 动物 and learn what the crazy creatures the audience comes up with are called in both English and Mandarin! Don't forget to check out the miniposter we made and the vocabulary list in the tabs below!
Hosts:
Uncle Colin, Teacher Hsiao, and Auntie Yen Yen
Time:
30 mins
Materials:
Paper and pens/ pencils for drawing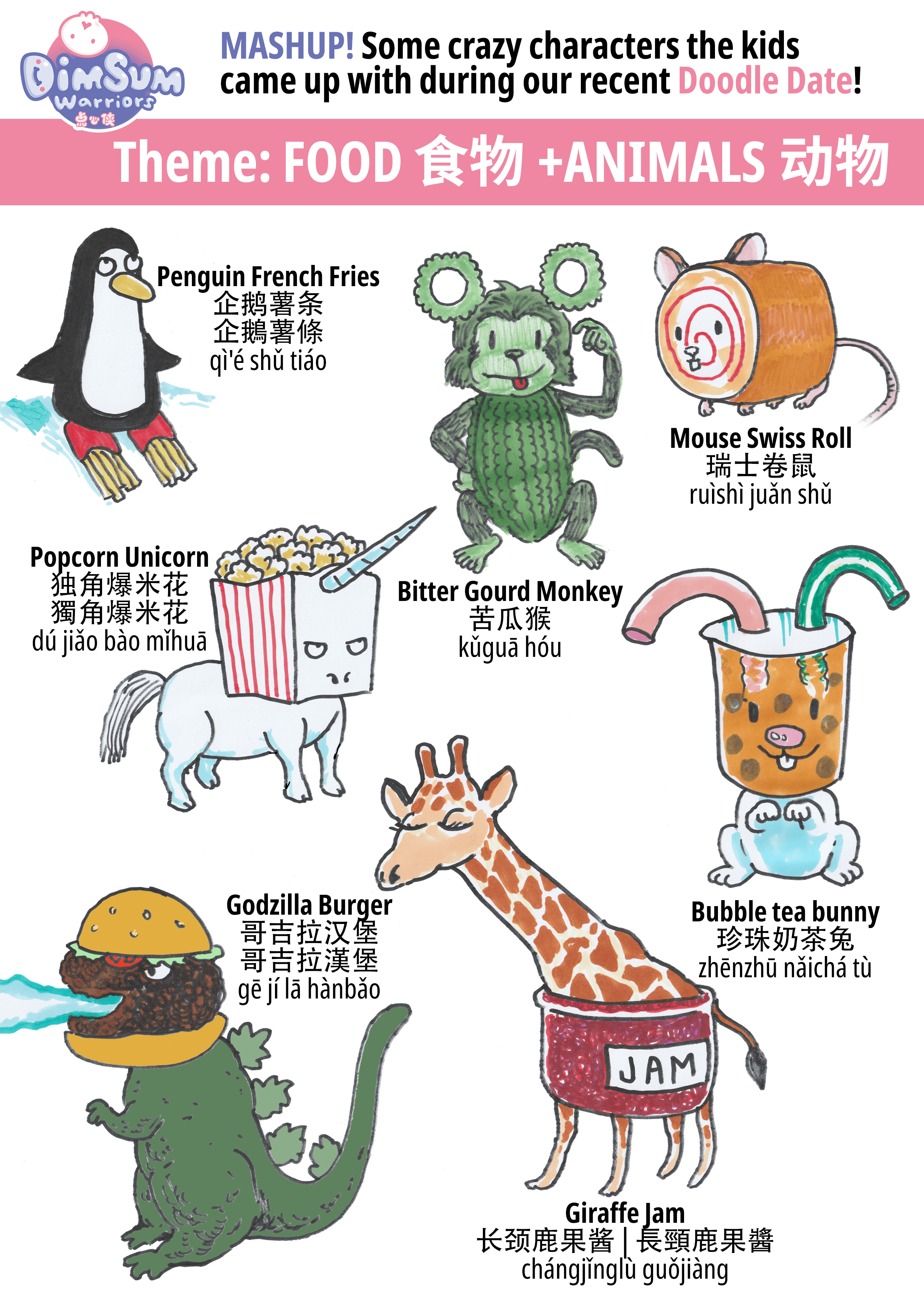 Penguin French fries 企鹅薯条 | 企鵝薯條 qì'é shǔ tiáo Popcorn unicorn 独角爆米花 | 獨角爆米花 dú jiǎo bào mǐhuā Godzilla burger 独角爆米花 | 哥吉拉漢堡 gē jí lā hànbǎo Bitter gourd monkey 苦瓜猴 | 苦瓜猴 kǔguā hóu Mouse swiss roll 瑞士卷鼠 | 瑞士捲鼠 ruìshì juǎn shǔ Bubble tea bunny 珍珠奶茶兔 zhēnzhū nǎichá tù Giraffe jam 长颈鹿果酱 | 長頸鹿果醬 chángjǐnglù guǒjiàng
JOIN OUR DOODLE DATES!
My husband Colin and I host the free Dim Sum Warriors Bilingual Doodle Date twice a month to encourage language-learning (Chinese and English) through comics and drawing. Join us!
The Dim Sum Warriors Bilingual Doodle Dates are FREE 20-minute draw-along and language-learning sessions held on our private Facebook Group, where kids will be immersed naturally in a bilingual (Chinese and English) creative environment.
If you want to join this FREE session on 2 Saturdays a month, sign up here:
In case you don't see the form, send us an email at hello@dimsumwarriors.com and we will sign you up right away.