Can You Name Some Jobs in Chinese?
Here's another crazy Dim Sum Warriors Bilingual Doodle Date—where our artist Colin draws the wacky things kids suggest, while former professor Yen Yen and certified Taiwanese schoolteacher Teacher Hsiao help to translate them into Chinese.
Description:
Welcome to the Dim Sum Warriors Doodle Date—a really fun way to learn Chinese for kids, that also builds creativity and imagination!
In this session, we mashup FOOD 食物 + JOBS 工作 for Labour Day 劳动节!
Don't forget to check out the miniposter we made!
Runtime: 35 mins
Hosts:  Uncle Colin, Teacher Hsiao, and Auntie Yen Yen
Time:
35 mins
Materials:
Paper and pens/ pencils for drawing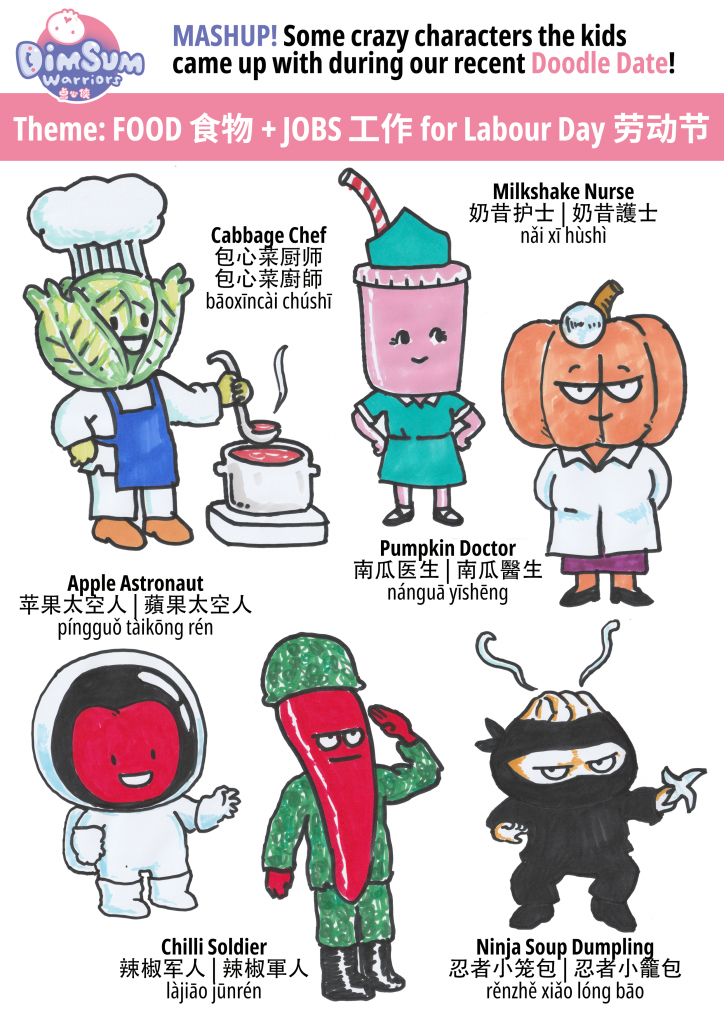 The words we learned were:
Cabbage Chef
包心菜厨师 | 包心菜廚師
bāoxīncài chúshī
Milkshake Nurse
奶昔护士 | 奶昔護士
nǎi xī hùshì
Pumpkin Doctor
南瓜医生 | 南瓜醫生
nánguā yīshēng
Apple Astronaut
苹果太空人 | 蘋果太空人
píngguǒ tàikōng rén
Chilli Soldier
辣椒军人 | 辣椒軍人
làjiāo jūnrén
Ninja Soup Dumpling
忍者小笼包 | 忍者小籠包
rěnzhě xiǎo lóng bāo
JOIN OUR DOODLE DATES!
My husband Colin and I host the free Dim Sum Warriors Bilingual Doodle Date twice a month to encourage language-learning (Chinese and English) through comics and drawing. Join us!
The Dim Sum Warriors Bilingual Doodle Dates are FREE 20-minute draw-along and language-learning sessions held on our private Facebook Group, where kids will be immersed naturally in a bilingual (Chinese and English) creative environment.
If you want to join this FREE session on 2 Saturdays a month, sign up here:
In case you don't see the form, send us an email at hello@dimsumwarriors.com and we will sign you up right away.