How do you say "Funny Fish?" or "Confused Bak Kut Teh?" or… other silly combinations of food and adjectives?
Check out our video of yet another crazy Dim Sum Warriors Bilingual Doodle Date—where our artist Colin draws the wacky things kids suggest, while former professor Yen Yen and certified Taiwanese schoolteacher Teacher Hsiao help to translate them into Chinese.

Duration: 25 mins | Hosts: Woo Yen Yen, Colin Goh and Teacher Hsiao
In this session—on 27 February 2021, we paired some unexpected adjectives with food! Colin's favourite is Lazy Fishball… because he says that's him!
Here are the words we covered—all within the space of only 25 minutes:
Happy Glutinous Rice Balls
快乐的汤圆 | 快樂的湯圓
kuàilè de tangyuan
Naughty Nonya Rice Dumpling
调皮的娘惹粽 | 調皮的娘惹粽
tiáopí de niáng rě zòng
Funny Fish
滑稽的鱼 | 滑稽的魚
huájī de yú
Confused Pork Bone Soup
困惑的肉骨茶 | 困惑的肉骨茶
kùnhuò de ròu gǔ chá
Happy Glutinous Rice Balls
快乐的汤圆 | 快樂的湯圓
kuàilè de tangyuan
Lazy Fishball
懒惰的鱼丸 | 懶惰的魚丸
lǎnduò de yú wán
And here's a mini-poster you can use for reference!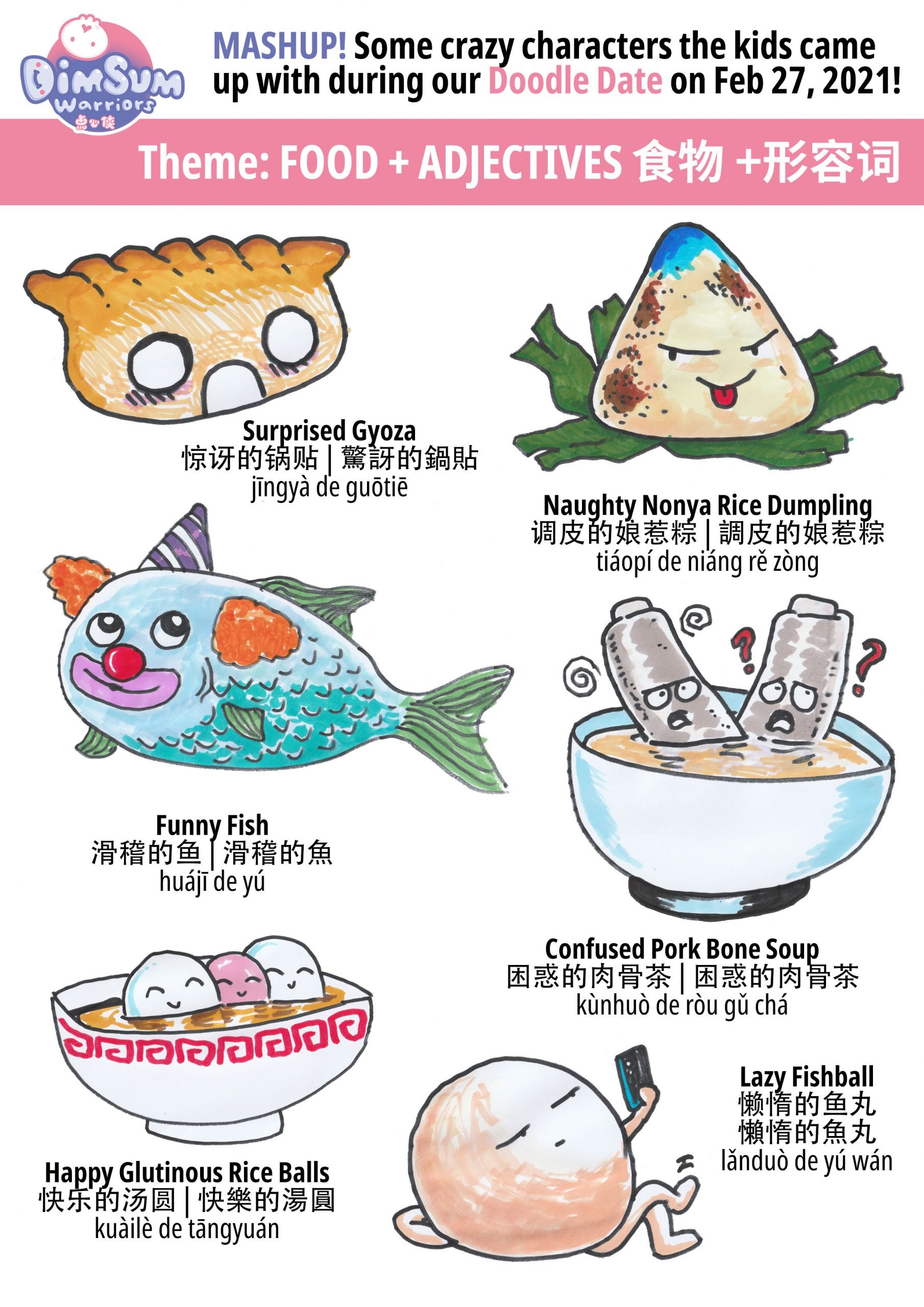 Note: Where there are differences between Simplified Chinese 简体字 (used in mainland China, Singapore and Malaysia) and Traditional Chinese 繁体子 (used in Taiwan and Hong Kong), you can see the Simplified version on the left/top and the Traditional version on the right/bottom.
The Dim Sum Warriors Bilingual Doodle Dates are FREE 20-minute draw-along and language-learning sessions held on our private Facebook Group, where kids will be immersed naturally in a bilingual (English+Chinese) creative environment.
If you want to join this FREE session on 2 Saturdays a month, sign up here: 
Learning is better when you're laughing!
We get kids to learn languages creatively through comics!
Meanwhile, we've also got many more resources to help you practice and expand your vocabulary if you join the Dim Sum Warriors Club—online quizzes, printable activities, lesson plans, all the stories and reading tech functions in our app, and an expanded version of our Doodle Date with story readings, drawing tips and more.
You dim sum—you win some!