Halloween Family Fun With Cosplay!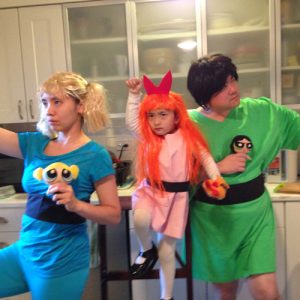 Coming from Singapore, I didn't really care about Halloween – to me it was just a highly commercialized holiday involving too much candy that was celebrated mainly by expatriates and poseurs. Who knew that Halloween could be so much fun for the whole family!
Since moving to New York, though, it's become one of our family's favorite days of the year—when we bond not just as a family, but as part of a story universe!
Our daughter, Yakuza Baby (her nickname after she arrived while Colin and I were watching a Japanese gangster movie. Read Colin's personal blog for the whole gory story), says that Halloween is a very special holiday to her because it's the only really "child-led" holiday of the year.  To her, other big holidays like Christmas, Lunar New Year and Thanksgiving are all adult-led and not "child-led".
Let me explain how our family's version of Halloween came to be.
Cosplay Meaning
Yakuza Baby was introduced to cosplay pretty early in life. ("Cosplay" originated as a Japanese mashup of the English words "costume" and "play", the idea being to create—not buy—a costume and role-play a character from one's favorite story or series.)
At 2, we took her to New York Comicon, and she was totally enthralled—especially by the scarier costumes!
The first time we cos-played together as a family was when YB was 4. Before the age of 4, we typically dressed her in a costume shop purchase so we could take cute pictures of her.
But that year, Colin had to travel a few days before Halloween, so we decided to celebrate it early. We asked her what she wanted to dress as, and agreed to dress as her supporting cast.
She took two seconds to decide who she was going to be—Blossom from the Powerpuff Girls! Blossom was always her favorite Powerpuff Girl, because, as she explained, "She's smart, she's the leader, and she speaks Cantonese. So she's the most 'me'".
Which meant, of course that Mommy and Daddy had to be Bubbles and Buttercup. Do you like our home-assembled Powerpuff Girls Costumes for Adults? Grandma sewed the black belts for us. This also started an annual tradition of rather unusual family portraits.
Which is how our child-led Halloweens started.
I realized that her choice of costume wasn't random—she always chose characters she felt reflected a bit of who she was at that point in time. For example, she was Hermione in Harry Potter while Mommy was Professor Trelawney and Daddy was Hagrid. Hermione because, "She's smart, brave, doesn't take crap from others and is the most like 'me' in the series."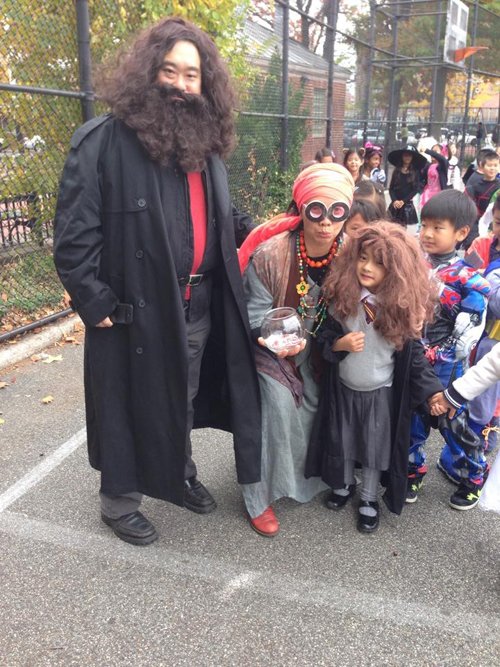 The year after that, it was Studio Ghibli's Spirited Away. YB was the protagonist Chihiro, Mommy was Kaonashi/No-Face and Daddy was Chihiro's father after he was transformed into a pig. Why Chihiro? Because "She's cute, brave, ordinary-looking," and again, "she's the most like 'me'." (I'm always amused by how she also wants to be "in character" for the photos!)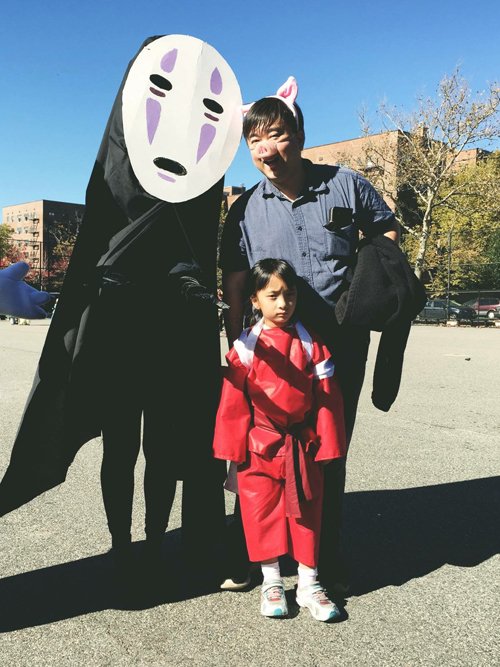 As we cosplayed with Yakuza Baby, and also visited Comicon annually, I realized that cosplaying had an important meaning: you become part of a much larger universe!
Beyond finding a character that's a part of yourself, cosplaying also opens you to the character's entire family and universe. You suddenly have sisters, brothers, parents—and enemies—you never had before. And especially at Comicons, you immediately recognize each other—even if you've never met!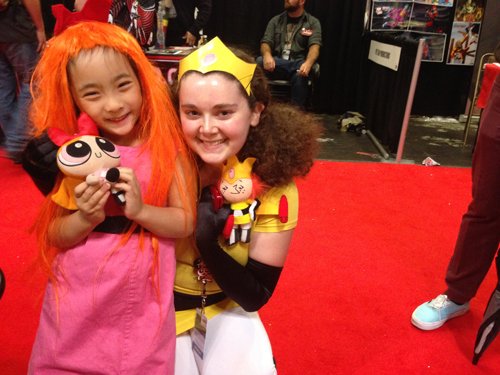 And by cosplaying along with YB's choice for the year, we get to share in her universes too—universes whose rules she is more familiar with, and where we are the newbies and supporting cast. This is the exact opposite of "real" life, where she has to follow our lead. Cosplay has become a refreshing interlude where she feels like she can take the lead. That it's fun for all 3 of us is a plus!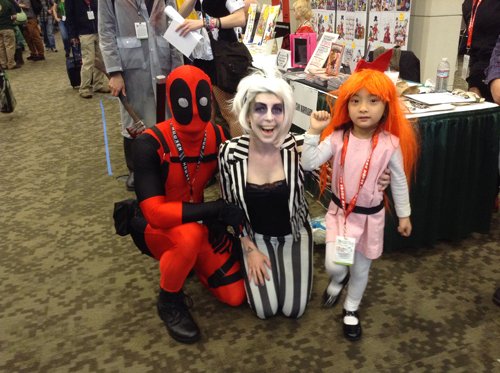 The years of cosplay have also left her with a strong desire to make her own costumes. She now regularly sews her own outfits, and plans and builds the necessary accessories herself. Here are 3 more recent—and more macabre—examples of her projects, all three of which won her the Best Costume in her first Taiwan school's Halloween celebrations.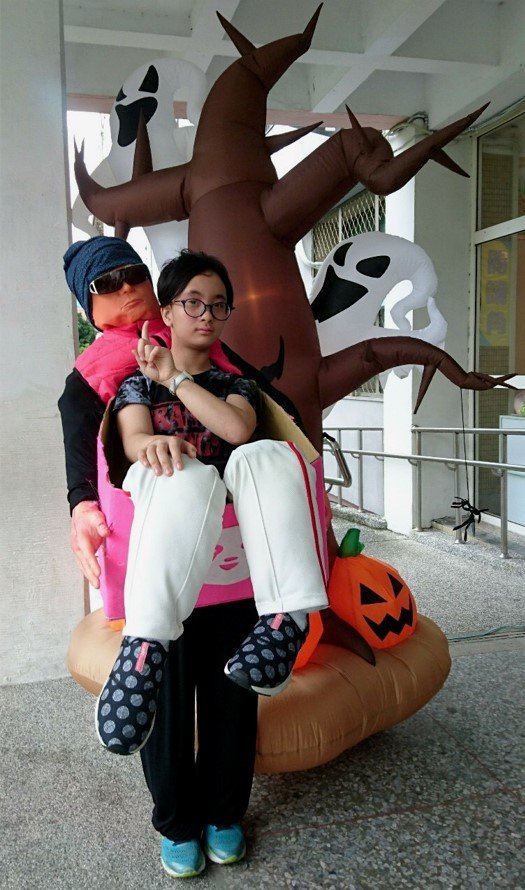 Whenever we have fights or experiences tensions as a family, we turn to the portrait on the wall of us as the Powerpuff Girls—and well, you can't stay angry for too long after seeing this!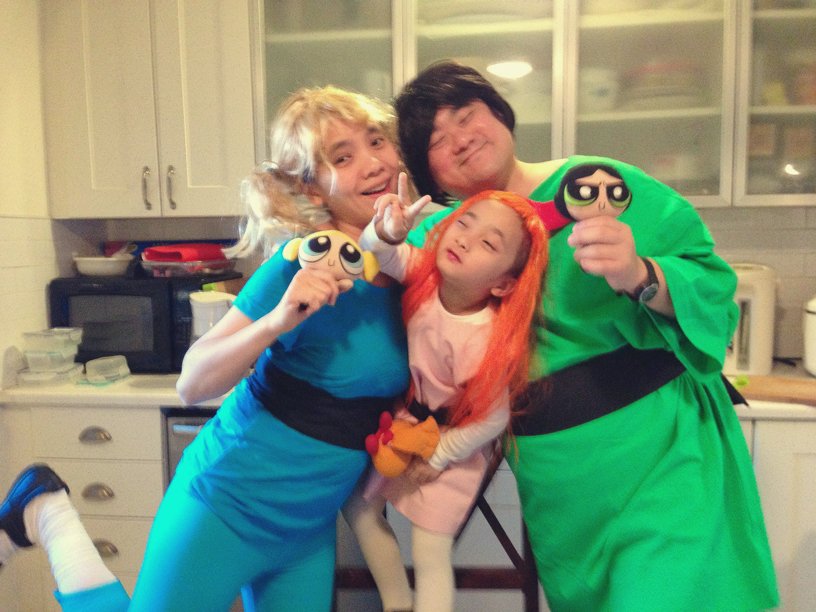 FUN FAMILY PROJECT TO TRY:
Get your kids to suggest characters they want to cosplay as.
Dress up as their supporting cast.
Pose for memorable family portraits!
Bonus points: Take your children to school in character!
Remember: You have to start pulling things together to build the costumes before October 30th!
Special note from Yakuza Baby: "It doesn't work if you make it a parent-led photo shoot for Instagram where everything has to be perfect, as dictated by parents—then it's no fun! Halloween must be child-led!"