Increase Reading & Language Learning Motivation: One Simple Trick
Reading aloud to children is a simple but highly effective strategy to help kids fall in love with reading and motivate them to learn languages—but there's an art to it. We have heard too many parents tell us "my child hates reading"! Luckily there's one simple trick that any parent can use when reading aloud to their kids… and it's a lot of fun too!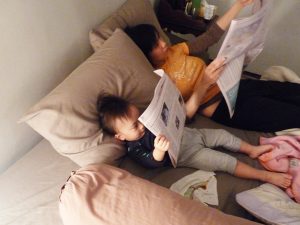 Dad The Personal Audio Book
I'm pretty much the less capable parent compared to the Wife—except in perhaps one small respect.
It's me whom our daughter always wants to read to her, ever since she was a tot.
Even today, at the age of 12, when she can read perfectly well, she still asks me to read to her!
And no matter how busy (or lazy) I am, I can never say no. After all, I don't know how long more I'll have this privilege of my little girl wanting to spend time with her dad!
I'd go as far as to say that my reading aloud to Yakuza Baby (her nickname because she arrived on this planet while we were watching a Japanese gangster movie) is a key factor in her advanced reading and comprehension levels, and her strong language learning motivation.
But don't just take my word for it, listen to the experts!
Expert Research Proves Benefits of Reading Aloud to Children
The research is pretty clear that there are many benefits to reading aloud to children.
Professor Brian Cambourne is one of Australia's most eminent researchers of literacy and learning, and he calls reading aloud the "Swiss Army Knife" of Effective Reading and Writing Pedagogy, because it achieves many things at one go:
Increases language learning motivation
demonstrates the power of narrative stories
provide insights into how reading works
shows how to search for meaning
demonstrates how to make connections and inferences
develops new vocabulary and syntactic awareness
stimulates imagination
Increase language learning motivation
This is why we made reading aloud to children a key component of the Dim Sum Warriors Learning System. In our books, we design the stories to be dialogue-driven and feature a range of emotions, to inspire kids to try reading the dialogue out loud. Meanwhile, in our app, we hired actors to read the dialogue out, just like a radio play.
But I don't just continue reading aloud to our daughter because of all these qualities—I do it simply because it's really enjoyable.
Bedtime Books for Baby
I became the default bedtime storyteller when our daughter was a baby—because at the time, Yen had to teach evening classes several times a week at her university.
I remember reading the same 3 books over and over again to her, in this order:
Pajama Time by Sandra Boynton
Night-Night Little Pookie by Sandra Boynton
(which secretly tickled me, because 'Pookie' is an extremely rude word in Malay)
Goodnight Moon by Margaret Wise Brown
(YB was never really into this, especially as a baby. It did, however, inspire a sequence in our first book, Papa I'm Still Not Sleepy)
She couldn't even speak, but she definitely paid attention when I opened the books, flipped the pages and started the story.
After a few weeks of re-reading these same books began to drive me nuts, I headed to the nearby branch library and rotated out some new books. The variety benefited both her and my sanity.
Since then, I have read to her many, many, many books, and we graduated from board books and picture books to Enid Blyton, Lemony Snicket's A Series of Unfortunate Events, most of Roald Dahl's and David Walliams' output, the entire Harry Potter series, everything by Frances Hardinge, Philip Pullman's His Dark Materials, P.G. Wodehouse's Jeeves and Wooster stories, and even Neil Gaiman's Sandman graphic novels.
When work took me away for a few months, the first thing she wanted when we were reunited was for me to read to her.
"Papa," she told me once. "You're like my own personal audiobook."
But I've also noticed that not everyone's reading aloud has appealed to her—even other close relatives like her grandmothers.
But why?
The Trick to Reading Aloud to Children
"Papa," YB replied instantly, "You make the silliest voices."
Duh.
And that, dear reader is the One Simple Trick any parent can pull to make reading aloud pleasurable for both your child and yourself and increase language learning motivation. SILLY VOICES!
Give different voices to each character. Read with emotion and switch up the pitch, tone, accent, and anything to give variety to the story! Flare your nostrils or switch faces for different characters if it helps. It doesn't matter how good an actor you are or aren't. As long as you're silly!
Trust me, it works!
Best Books for Reading Aloud to Children
Here is a list (in no particular order) of YB's Top 10 favourite children's books to get me to read aloud from when she was about 3 to about 6:
1. What! Cried Granny by Kate Lum, illustrations by Adrian Johnson – Kids love absurdity, grandparents and yelling. This has all three! I added my own sound effects to whatever Granny was doing, which worked a treat.
2. The Gruffalo by Julia Donaldson, illustrations by Axel Scheffler – Beautiful rhymes, great illustrations and a very clever story.
3.  Leonardo the Terrible Monster by Mo Willems – Mo Willems is a modern day master of children's amusement. YB loved this book so much, we had to take it on our travels with us!
4.  I Broke My Trunk (An Elephant & Piggie Book) by Mo Willems – Mo Willems again. All his Elephant & Piggie books are a hoot! A great example of comics for little kids.
5. The Book With No Pictures by BJ Novak – No pictures, no problem! They'll still laugh out loud.
6. This Rabbit Belongs to Emily Brown by Cressida Cowell, illustrations by Neal Layton – Get ALL the Emily Brown books. They are screamingly funny.
7. Monsters Eat Whiny Children by Bruce Eric Kaplan – A hilarious tale by the New Yorker cartoonist where a scary situation turns… mundane. Parents may love this even more than kids. I always find that kids love to peek into grownups' psyches anyway.
8.  Green Eggs and Ham by Dr Seuss – It was the only Dr Seuss I liked as a child, and the trick to reading it is to get progressively more hysterical until the climax.
9. Tabby McTat by Julia Donaldson, illustrations by Axel Scheffler – Another great one by the Gruffalo team. The rhyming narrative is great, but the story reminded me of some of the great British indie movies by Ken Loach or Mike Leigh. Funny, moving and makes you think. Was a little surprised how much YB liked this.
10. There Was An Old Lady Who Swallowed a Fly by Simms Taback – A ridiculous old folk song with really cool cut-away graphics by the artist who designed the very first McDonald's Happy Meal Box. Make up your own melody, or follow this:
In the video, the story is read by Cyndi Lauper! Have fun reading this to your little ones. I know I did!
If you want, please go to your local children's booksellers and ask them to get them for you. I deliberately avoided adding Amazon or Book Depository links, because we all need to support our local independent bookstores in these very challenging times!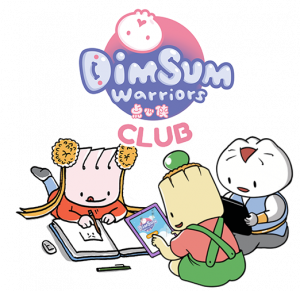 Boost your kids' confidence and creativity in both Chinese and English—by reading and drawing funny bilingual comics with the Dim Sum Warriors Club!