Globally-Savvy Parents Know Learning Chinese Will Continue to be Useful
Powerful private international schools everywhere—even in the USA—are now offering Chinese as a second language over traditional choices like French or Japanese; wealthy businessmen are relocating to places where their kids can learn Chinese more easily; it's the largest economy in the world and the benefits of learning Chinese are just undeniable.
But isn't it, like, a super-difficult language to write and speak?
Doesn't it involve lots of rote memorization and drilling?
My kids already have very full schedules—does this mean I have to add to their already heavy burden?
Does it mean I have to be a multi-millionaire for my kids to learn it?
With the virus floating about, is it possible to learn it from the safety of home, even if no one in the house understands Chinese
GOOD NEWS! Even if you don't speak Chinese, you can still be involved in your children's learning!
 We have a STRESS-FREE, NON-JUDGMENTAL way to help you—designed and certified by international education experts!
And it involves adorable cartoon dumplings!
The DIM SUM WARRIORS to the Rescue!
At Dim Sum Warriors, it is our mission to lower the fear of languages through PLAY and CREATING.
Based on cutting-edge research into literacy and pedagogy, our team of professional educators and award-winning artists have designed a multiplatform learning system that combines:
? Hilarious bilingual comics
? Fun bilingual apps with reading evaluation tech
? Regular interactive livestreaming events where kids create and draw while learning and conversing in both English and Chinese!
We're a RARE programme that boosts not just language ability but also creative skills!
You don't even have to step out of the home!
No commuting, no risk of catching viruses from classmates!
Dim Sum Warriors Values
When you join the Dim Sum Warriors Club, you are joining a community that cares deeply about:
? Embracing ALL cultures, languages, and accents. Our team, stories and content have a world view that values people's differences and encourages kids to find out what makes them uniquely them.
?Learning Fearlessly. We care that your kids and everyone should feel they can learn without fear. As a team, we are committed to using humor and cuteness to teach what could be difficult content. We have meaningful assessments that let kids and parents see their progress, but these are never judgmental or high-stress events. We encourage kids to make mistakes, so they can try again and reinforce what they've learned!
?Always playing, thinking and creating.  We want your kids to always play, think and create with what they learn! We don't want them to simply memorize content. Our system encourages them to play with new words that they learn, and use their imagination to create new stories and content. That way, their interest will be sustained and their chances of mastery will increase dramatically.
? Safety. Our products are kid-safe and we do not display third-party ads on our web site or in our apps. The screen time that you spend with us is high-quality. What this means is that kids are thinking and imagining as they work on our digital activities. We don't want kids to simply stare passively at a screen.
WARNING!
The Dim Sum Warriors Club might not be the program for you!
Enrolling your child in a program that focuses on creativity and confidence first and testing ability second may not be for you.
We know that kids and parents have limited time and sometimes need a learning program that is closely aligned with the school curriculum and shows fast results, so that kids can focus their time on scoring well in tests and exams.
A program like the Dim Sum Warriors can't promise you fast results and high scores.
If that's what you are looking for, the Dim Sum Warriors program is NOT for you.
But if you're looking for a learning program that gets your kids excited about reading hilarious comics, gets them to interact with  award-winning creators who have deep international experience, and will trigger their interest in languages and creativity with long-term positive effects, then Dim Sum Warriors might just be the perfect solution for you!

The Dim Sum Warriors Club offers an innovative bilingual language learning experience that increases kids' interest, lowers their fear AND boosts their creativity as well!
Highly recommended for K to Primary 5/5th grade kids who are learning Chinese or English, it will improve BOTH languages simultaneously, while also building cultural confidence, global competence and creativity.
The Dim Sum Warriors Club is rooted in actual research into literacy development, pedagogy and learning, as well as deep experience in teaching and great respect for the work of teachers and parents.
Designed by expert educators and award-winning creatives, our system is tailored to meet the OECD's new PISA Global Competence Framework and is certified for pedagogical quality by Education Alliance Finland—the world's leading impact verification service for education technology solutions! This means our system has passed rigorous academic, science and evidence-based assessments by professional international educators.
Your kids will get so many useful and engaging resources and experiences—all for less than the cost of after-school tutoring and weekend enrichment classes (or frankly, even the cost of a family dinner nowadays)!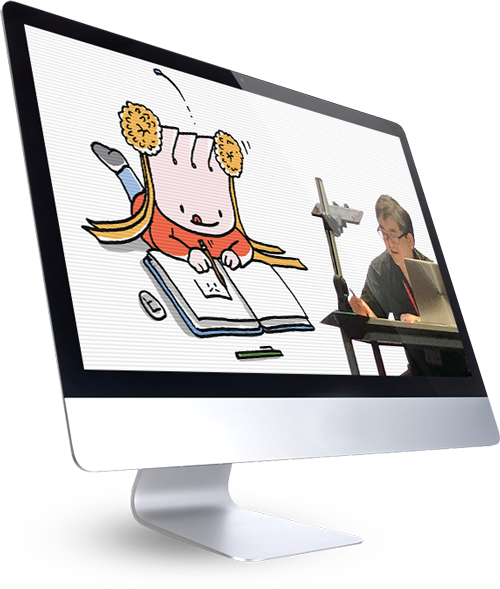 Dim Sum Warriors Club 
BILINGUAL COMICS JAM!
Fire up your imagination as you create your own work alongside award-winning artists and learn languages in a creative and relaxed environment. Three times a month , kids can:
Enjoy story readings
Draw together with our artist
Get our artist to bring your crazy suggestions for food characters to life—always a giggly, inspiring and imaginative experience!
Pick up new and surprising vocabulary in both Mandarin and English
Access a bilingual quiz crafted from the conversations in the livestream session, so that kids learn vocabulary from an authentic interactive experience
Sessions will also be recorded for playback in case you have to miss one of them.
Why are we including drawing in a language curriculum?
Because research in the field of literacy development has found that drawing has many benefits for reading and writing, as well as for overall development. It's a natural mode for kids to record what they see around them, organize and express their thoughts, remember, imagine, and even make arguments. Drawing enables the practice of focus and paying attention to detail, taking risks, expressing their imaginations with clarity, and finding their own voice—all skills that are highly necessary in the 21st century!
"Currently, modes of parenting and methods of education prevent the development of most of the marks a child could generate during its mental life. If parents and teachers let children scribble and talk about scribbling, draw and talk about their drawings, write about their own drawing … children will move more naturally into writing and reading. Learning delays and disabilities, short attention spans and a host of behavioral problems may clarify themselves as what happens when children are separated from what their brains have evolved to do in the course of the normal, natural developmental unfolding of a marks-based intelligence. The mark-making and the talking are important." - Dr. Susan R. Sheridan, Susan Rich Sheridan (2002) The Neurological Significance of Children's Drawing: The Scribble Hypothesis, Journal of Visual Literacy, 22:2, 107-128, DOI: 10.1080/23796529.2002.11674584
The Dim Sum Warriors Club offers something very different from the usual tuition or enrichment classes. We're not about just memorizing stock phrases for regurgitation during exams (and never again thereafter)—we want kids to be able to create with the languages they're learning, and also develop the ability to be creative with any situation! Our Dim Sum Warriors Club Bilingual Comics JAM drawalongs provide the opportunity to develop these skills through casual, fun, and very creative streaming sessions!
Spark CREATIVITY—Do more than just memorize stuff to pass tests!
The Dim Sum Warriors Mobile Comic Reader App
With our app, your kids can read entertaining and educational bilingual comic books on their own, and practice reading aloud with immediate feedback, anywhere, anytime!
Read hilarious bilingual comic stories
Hear the stories performed by actors—in both languages
Record their own reading
Get immediate feedback on pronunciation and fluency through our US patent-pending reading evaluation system
Play games that boost vocabulary
Get new content—updated every month!
Club members get access to all the functions and updates!
PLEASE NOTE: The Dim Sum Warriors App is now available in the App Store and the Google Play Store for FREE download, but ONLY SUBSCRIBERS get access to the monthly updates and new content.
Look at what parents, educators, experts and kids
are saying about Dim Sum Warriors!
"我七岁的女儿不停的重读《小小点心侠》的故事书。她觉得内容很滑稽,每次阅读时都哈哈大笑!"
"My 7-year-old daughter keeps re-reading the Little Dim Sum Warriors books. She thinks they're really funny, and she laughs every time she reads them."
"The students and staff at our school absolutely adore the Little Dim Sum Warriors books. They tick so many boxes for books that are in high demand by students and staff. They are funny, they are bilingual, and they are comic style picture books. Fantastic illustrations, brilliant text and a must have for all libraries!"
"Both my kids have been fans of the Dim Sum Warriors books for some time! This past Saturday, we spent a fun and creative morning at the online Jam drawing different emotions and learning the words for them. The kids were especially crazy over the final minutes when they could request whatever they wanted drawn. A very creative and meaningful way to spend the morning with the kids. I got to draw too!"
"The light-hearted performance by the Little Dim Sum Warriors had the audience entertained and educated at the same time."
The Dim Sum Warriors App gives plenty of freedom for practice: It's easy to toggle from one language to another, limitless possibilities to listen and re-listen to the stories / words, possibility to look into a keyword more closely, a chance to record and listen to your own reading, with good feedback from the solution about the pronunciation. The Dim Sum Warriors Curriculum has:
1. Extensive, detailed and yet easy to access materials for educators to ensure successful learning experiences for the students.
2. Visually appealing and easy to use digital application to support and diversify the learning process.
3. Learning through stories that happens naturally and supports a bi-lingual approach
"The boys are having a blast with the app. I've not seen my P2 (aged 8) read Chinese words so fast than at the sheep game!" 
"The app is user-friendly, inviting, and is rich with humor. Using multiple modalities, it serves as a pedagogical tool that provides readers of all ages the skillset they need to develop bilingual proficiency as well as biliteracy. It has a unique feature that promotes translanguaging and cultivates appreciation for visual arts."
"Easy to use, suitable for kids my child's age. Images are child-friendly, language is age-appropriate."
"Both of us really have a very good bonding time together when we began with reading the Dim Sum Warrior books as bed time stories, playing the app together, occupying her with the 'live' drawalong session & then doing the quiz together… We have so many topics in common!
"Deliciously funny and clever!"
"It has great stories that you can toggle between languages to help kids learn them, and has activities to reinforce the words you see in the stories."
"It's great because it can read to you and it can change the language and you can even record yourself reading the book." 
"We live in Colorado and I've always made sure that my son stays in touch with the Chinese language that I grew up with. There aren't a lot of casual and creative options for Chinese learning and so it was really fun for us to take part in the Dim Sum Warriors comic Jams! We can draw together and speak Chinese and English together in a stress-free experience. He is learning quite a bit, and he doesn't even know it. "