What is the Dim Sum Warriors Club?
The Dim Sum Warriors CLUB is a toolkit that families can use to guide their children's bilingual (Chinese+English) learning journey.
Designed by education experts based on cutting-edge research, the Club helps to improve English AND Chinese simultaneously—through a multimodal approach that uses hilarious comics and also builds creative skills!
How the Dim Sum Warriors Club Can Work for You!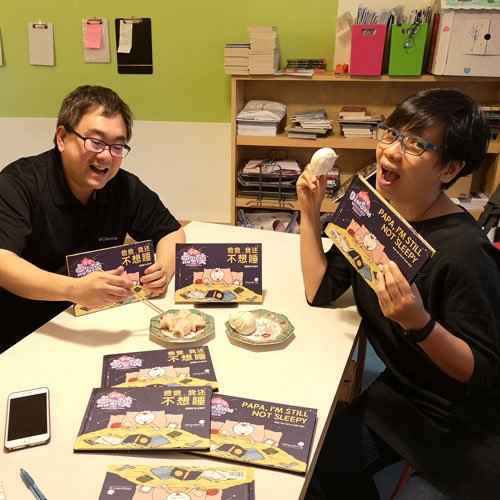 Hi! I'm Dr. Woo Yen Yen! My husband Colin Goh and I are the creators of the DIM SUM WARRIORS! And I'm here to share with you how the DIM SUM WARRIORS CLUB works.
I hold a Doctorate in Education from Columbia University's Teachers College, and worked as a tenured professor in curriculum studies for many years in New York.
We designed the Dim Sum Warriors Club to be a low-stress and enjoyable way to help English-dominant parents (like ourselves!) who want their children to be truly bilingual.
By this, we mean that we want our kids to learn languages not just to regurgitate it for exams, but rather, we hope they will continue to use it in meaningful ways long after they leave school.
But many parents find this very hard. Trying to persuade them it's going to be useful in the future, nagging or threatening them, or burdening them with yet another tutor—these have only short term effects.
In fact, such tactics might even lead your kids to develop negative attitudes towards the language.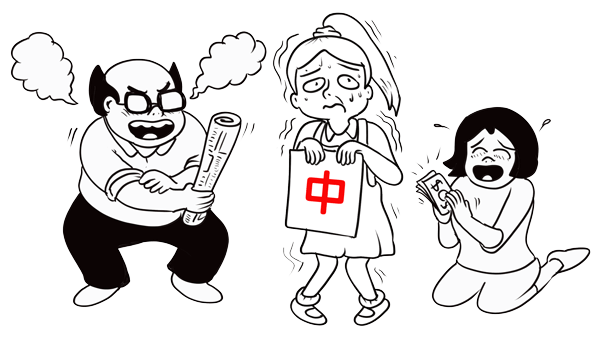 The best way is to ALIGN KIDS' INTERESTS with the language.
But where to start? It can be hard to find the right resources. Textbooks are often too boring or too oriented towards tests. And if you outsource the process to a tutor, you might have little idea what your kids are actually absorbing.
The Dim Sum Warriors Club serves as a complete toolkit—a blended multimodal approach that combines live interaction, innovative digital tools and hilarious comics!  
Quick Start Guide to the Club
? Step 1: Login to the Club on our website, and set your goals with our Training Plan
? Step 2: Read our stories—in book form and on our App
? Step 3: Practice reading aloud and play games with our App
? Step 4: Login to the Club on our website and use the activities and resources
? Step 5: Join our Bilingual Comic Jam!
? Keep going! Members get continually updated content!
These are only suggested steps! Feel free to explore and create your own learning adventure! Easy-peasy lemon squeezy!
†We have special school packages too! If you wish to use the Dim Sum Warriors Club in your school or learning centre, please email schools@dimsumwarriors.com
Need even more details of how the Club can work for you? No problem!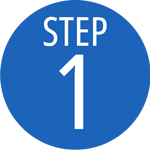 Start by Setting Goals with our Training Plan!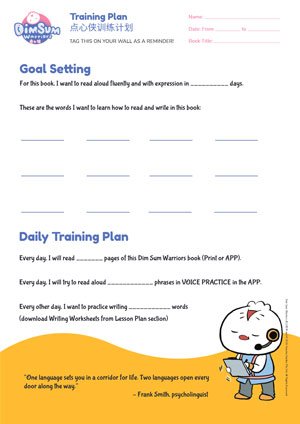 The moment you join the Club, you'll get access to our Members-Only Club Page.
There, you'll get a TRAINING PLAN, which you can download and print.
Discuss the Training Plan with your kids to set goals that they feel they can achieve within a certain time frame. The Plan will then serve as a daily and weekly after-school schedule.
Note: The schedule should be at a pace your kids feel comfortable with. Being a tiger parent and imposing a harsh regimen will only turn your kids off the language forever!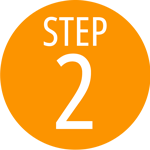 Start reading our hilarious bilingual stories!
Our stories are not only funny, they are specially crafted by experts:
• They are in the form of comic books, which research has consistently shown are excellent for language learners—especially reluctant readers.
• They prioritise relatable characters and situations as well as expressive dialogue—to inspire kids to use the language in their daily interactions.
The stories can all be read through our App, where you can toggle between English, simplified Chinese 简体字 and traditional Chinese 繁体字—along with games and reading evaluation functions! (See Step 3 below!)
Concerned about screen time? Our stories are also available as beautifully printed hardcover books in English and simplified Chinese 简体字! Read the stories in print, and then practice within the App! 
Club Members get special discounts on the printed books!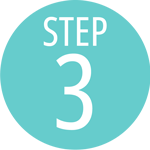 Practice and Play with our App!
With our innovative mobile comic reader App, kids can not only read the stories, they can also:
? Hear the stories performed by actors—in both languages
? Toggle between English, simplified Chinese 简体字 and traditional Chinese 繁体字
? Examine keywords more closely
? Record their own reading
? Get immediate feedback on pronunciation and fluency through our unique reading evaluation tech
? Play games that boost vocabulary
The app provides hours of immersive fun!
Only Dim Sum Warriors Club members get access to all the functions and regular updates!
Deepen learning with activities and resources!
Login to the Members-Only Club section on our website, you and your kids can access a whole host of activities and resources such as:
Lesson Plans with tips for guiding kids in their daily practice
Worksheets
Printable activity sheets
Paper Puppets
Features on education trends and news
Video archives
Online vocabulary quizzes
Mini posters
New content added monthly!
There's enough to keep your little dumplings engaged, learning and laughing for months!
Join the Jam and get creative!
It's hard for kids to stay motivated with just apps, books and worksheets. That's why we hold our Bilingual Comic Jam sessions 3 Saturday mornings a month—to keep kids inspired and let them witness the creative possibilities in the language!
The Bilingual Comic Jams are 45-minute interactive community sessions held from 9.30 to 10.15 am (Singapore time UTC+8) with:
? A story reading in both English and Chinese. (We often invite kids to be guest readers with us and practice their reading!)
?Certified Chinese teachers explaining key words in the story while our artist draws the words out in cartoon form to implant them deeper in kids' memories.
? A highly interactive segment where kids use the chat function to suggest funny characters for our artist to draw while they learn what they're called in Chinese. Kids are also invited to draw along and pick up some drawing tips.
The Jams are always highly engaging, giggly affairs which boost language and drawing skills. They also provide inspiration for kids' own creativity!
In fact, it's so fun that entire families have joined in the Jam along with their kids! It's a great way to participate in your children's learning experience.
†We have special school packages too! If you wish to use the Dim Sum Warriors Club in your school or learning centre, please email schools@dimsumwarriors.com
Look at what parents, educators, experts and kids
are saying about Dim Sum Warriors!
"我七岁的女儿不停的重读《小小点心侠》的故事书。她觉得内容很滑稽,每次阅读时都哈哈大笑!"
"My 7-year-old daughter keeps re-reading the Little Dim Sum Warriors books. She thinks they're really funny, and she laughs every time she reads them."
"The students and staff at our school absolutely adore the Little Dim Sum Warriors books. They tick so many boxes for books that are in high demand by students and staff. They are funny, they are bilingual, and they are comic style picture books. Fantastic illustrations, brilliant text and a must have for all libraries!"
"Both my kids have been fans of the Dim Sum Warriors books for some time! This past Saturday, we spent a fun and creative morning at the online Jam drawing different emotions and learning the words for them. The kids were especially crazy over the final minutes when they could request whatever they wanted drawn. A very creative and meaningful way to spend the morning with the kids. I got to draw too!"
"The light-hearted performance by the Little Dim Sum Warriors had the audience entertained and educated at the same time."
The Dim Sum Warriors App gives plenty of freedom for practice: It's easy to toggle from one language to another, limitless possibilities to listen and re-listen to the stories / words, possibility to look into a keyword more closely, a chance to record and listen to your own reading, with good feedback from the solution about the pronunciation. The Dim Sum Warriors Curriculum has:
1. Extensive, detailed and yet easy to access materials for educators to ensure successful learning experiences for the students.
2. Visually appealing and easy to use digital application to support and diversify the learning process.
3. Learning through stories that happens naturally and supports a bi-lingual approach
"The boys are having a blast with the app. I've not seen my P2 (aged 8) read Chinese words so fast than at the sheep game!" 
"The app is user-friendly, inviting, and is rich with humor. Using multiple modalities, it serves as a pedagogical tool that provides readers of all ages the skillset they need to develop bilingual proficiency as well as biliteracy. It has a unique feature that promotes translanguaging and cultivates appreciation for visual arts."
"Easy to use, suitable for kids my child's age. Images are child-friendly, language is age-appropriate."
"Both of us really have a very good bonding time together when we began with reading the Dim Sum Warrior books as bed time stories, playing the app together, occupying her with the 'live' drawalong session & then doing the quiz together… We have so many topics in common!
"Deliciously funny and clever!"
"It has great stories that you can toggle between languages to help kids learn them, and has activities to reinforce the words you see in the stories."
"It's great because it can read to you and it can change the language and you can even record yourself reading the book." 
"We live in Colorado and I've always made sure that my son stays in touch with the Chinese language that I grew up with. There aren't a lot of casual and creative options for Chinese learning and so it was really fun for us to take part in the Dim Sum Warriors comic Jams! We can draw together and speak Chinese and English together in a stress-free experience. He is learning quite a bit, and he doesn't even know it. "
DIM SUM WARRIORS
is Independently Certified for High Pedagogical Quality
Don't just take our word for it! The Dim Sum Warriors Learning System has been independently certified for high pedagogical quality by Education Alliance Finland, the world's leading education technology impact verification service. This means our system has passed rigorous academic, science and evidence-based assessments by professional international educators. What makes the Dim Sum Warriors Club so special?
It offers a completely different experience from the usual tuition or enrichment class:
The focus on ALIGNING INTEREST rather than trying to cover a pre-set curriculum just to pass tests.
Using CREATIVITY (e.g., through comics and drawing) as a strategy for language-learning. No other system in the world offers this!
Multimodal learning that can happen anywhere and anytime, and at an individual pace;
Learning methods designed by a curriculum expert and former tenured professor in the field of education;
A programme that's certified for high pedagogical quality by Education Alliance Finland, the world's most thorough edtech impact verification service;
Content created by international award-winning creatives with experience in feature filmmaking, theatre, publishing and multimedia production;
Priority access to special events, news and releases;
Discounts on books and merchandise.
You dim sum, you win some!