How did a tenured professor of education and a lawyer with qualifications in three different countries wind up creating a learning system around kung fu-fighting dumplings? Well, by taking the looooooong way round.
Woo Yen Yen graduated with an honours degree in English literature from the National University of Singapore, then after getting her Post-Graduate Diploma in Education from Nanyang Technological University, she taught English and served as Head of Extra-Curricular Activities at Nanyang Girls High School, her alma mater.
Meanwhile, Colin Goh started cartooning professionally when he was only 17 and still in junior college, when his comic strip, Orchard Road, premiered in the very first edition of The New Paper in 1988. He was the very first Singaporean ever to do a daily newspaper comic strip, which he only stopped in 2008. His strips included Orchard Road, The Concrete Jungle, Report Card, Yankee Doodles and Alien Talent. Like any obedient Asian child, however, he never thought of cartooning as a "proper" career. Cartooning was just this side hustle which he did through his national service in the military, his years of law school at University College London, and even his years practicing as a litigator in the field of maritime law. This was even when he started doing the extremely popular The Last Page for 8Days (which he ended only in 2019, after over 17 years) and wrote and drew all the cartoons for two New York Times bestselling books—Search Inside Yourself and Joy On Demand by Chade-Meng Tan (HarperOne).  (For more on Colin's cartooning and solo work, please visit http://colingoh.com/)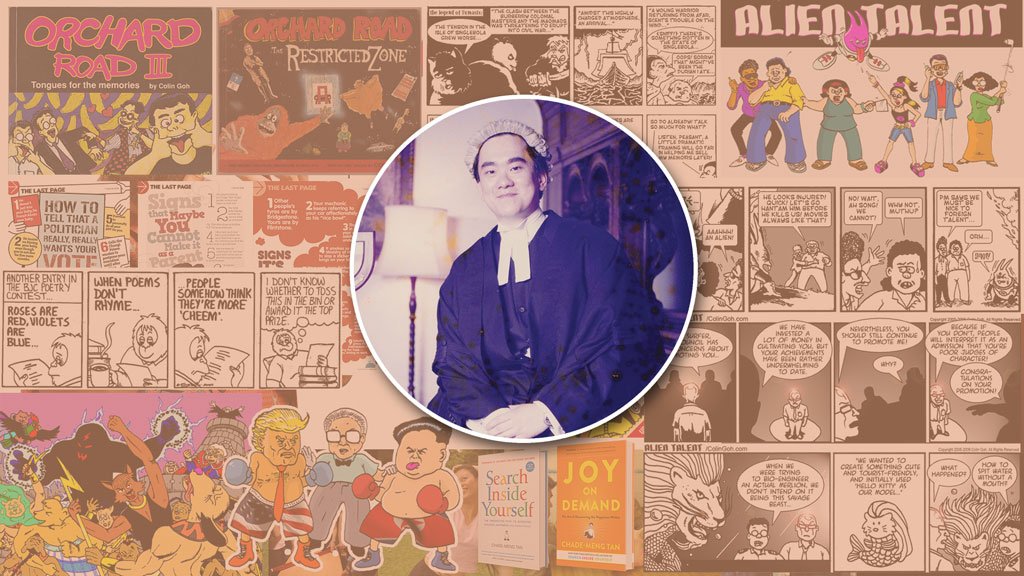 Yen Yen and Colin got married in June 1988—and moved to New York City in August for graduate studies. Yen Yen earned her doctorate in education from Columbia University's prestigious Teachers College, where she was also awarded the prestigious Spencer Research Fellowship. She went on to become a tenured professor at Long Island University's College of Education and Information Sciences, where she taught curriculum development and history. Meanwhile, Colin obtained his Master's in Law at Columbia's School of Law, and was named a Harlan Fiske Stone Scholar before qualifying as a New York attorney, making him a qualified lawyer in three jurisdictions.
But being in New York triggered something else in the both of them. (You can read this piece they wrote shortly after arrival—their very first collaboration—for the Singapore International Foundation here.) They began to see that they didn't have to stick with the script handed to them.
Simultaneously homesick and inspired, they created Singapore's first ever satirical humour website—TalkingCock.com. Originally meant as a private platform for venting, it somehow leaked and became unexpectedly popular. At its peak, TalkingCock garnered 4 million page views a month and got featured by Wired, Time magazine, the Washington Post and others, and was even debated in Singapore's parliament.
They also spun-off a part of TalkingCock.com—a crowdsourced lexicon of vernacular Singapore English called the Coxford Singlish Dictionary—into a book that continues to be a bestseller, even after over 18 years.
Running with the ball, the couple ventured into filmmaking, despite knowing NOTHING about it. Using a friend's newly bought video camera and roping in friends and family, they decided to shoot their first short film, eAhLong.com, about a loanshark taking his business online, which unexpectedly won the only award at the Singapore International Film Festival that year.
Filled with hubris, Yen Yen and Colin went straight into making a full feature—TalkingCock the Movie, which although far from being a work of art, nevertheless became a cult favourite, and in 2017, was honoured as an 'Iconic Singapore Film' by the Singapore International Film Festival with a special commemorative screening at the National Museum.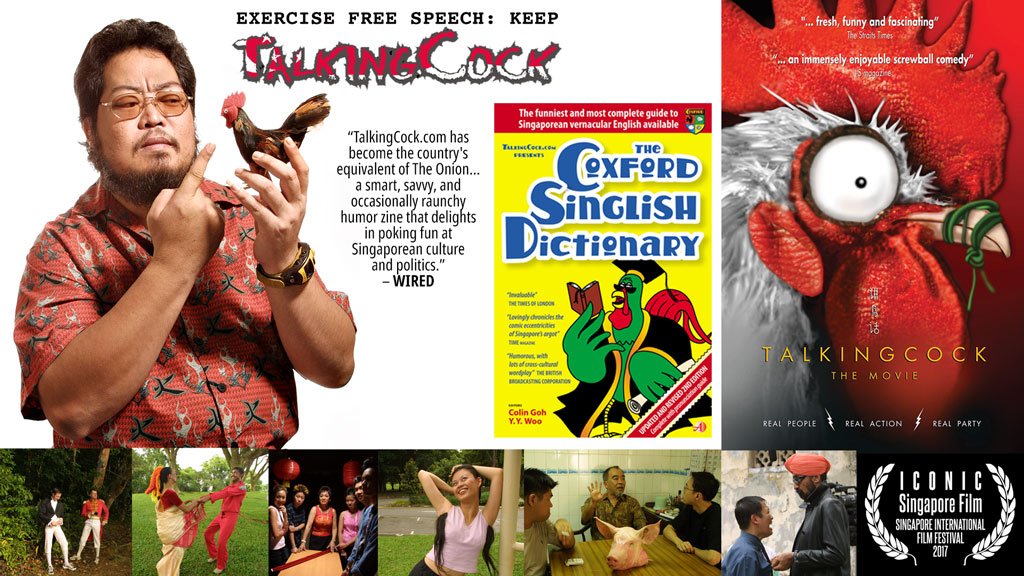 As everything that could go wrong did go wrong with TalkingCock, the experience also proved to be the best film school any aspiring auteur could ask for, and in 2006, Yen Yen and Colin parlayed their experience into making their 2nd feature film—an intimate family drama called Singapore Dreaming which went on to be screened at numerous international festivals and venues such as the Smithsonian Institution and Brooklyn Museum of Art, win major international film awards, and is currently experiencing a revival on iTunes/Apple TV and Netflix.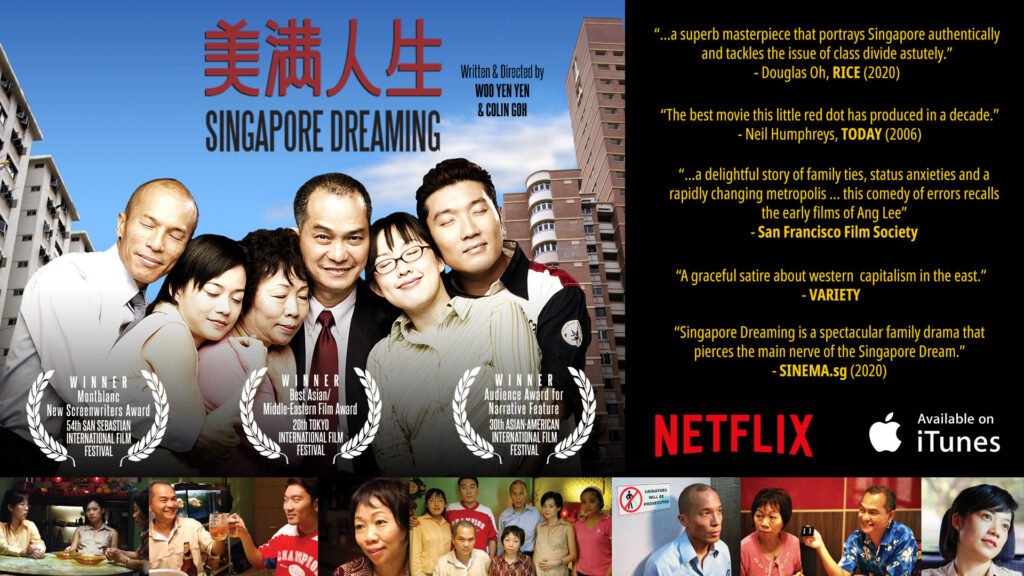 Just when they were preparing for their third feature film, however, their daughter arrived—three months early, while they were watching a Japanese gangster movie. "Yakuza Baby", as she was inevitably nicknamed, made Yen Yen and Colin put their moviemaking and its hectic schedule on hold. But they still wanted to do something artistic, and for inspiration, looked to their daughter's mixed up heritage (and likely future), as well as their twin loves for wuxia movies and eating dim sum.
The result was Dim Sum Warriors 点心侠 – a digital, interactive iPad comic series about kung fu-fighting dumplings. Earning critical acclaim, it is now published by Scholastic, the world's largest children's publisher and the company behind iconic titles such as the Harry Potter series, Clifford the Big Red Dog and Dog Man.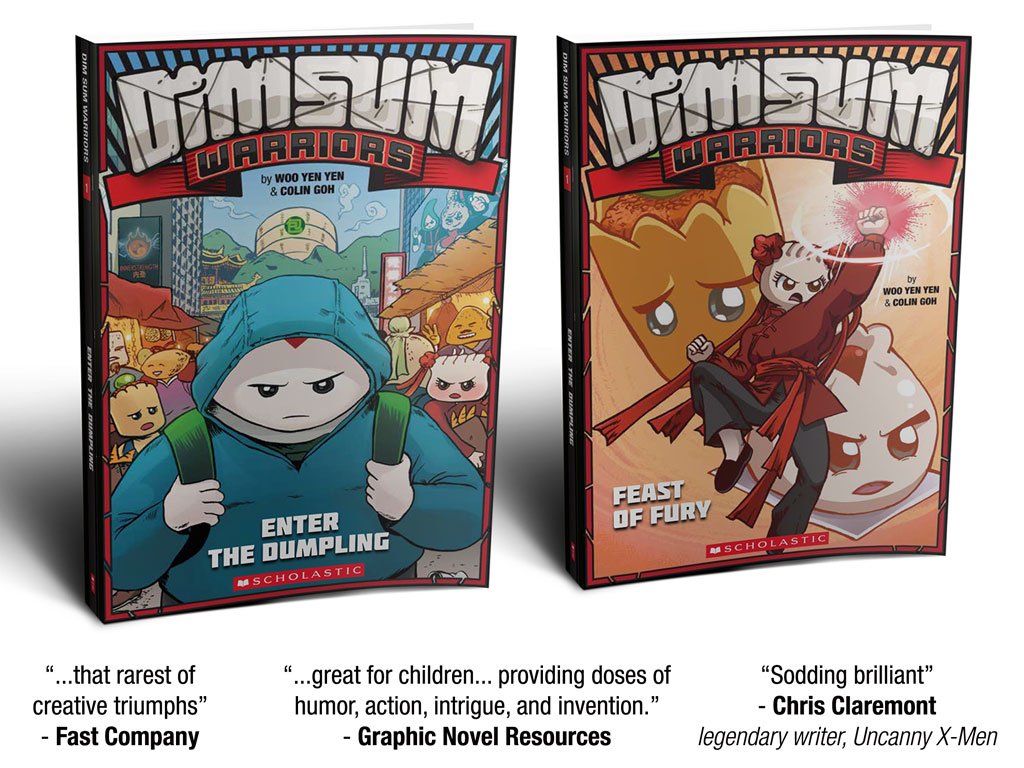 In 2017, they were invited by Stan Lai Sheng-chuan 赖声川, the biggest name in Chinese language theatre, to adapt Dim Sum Warriors into a musical. With music by Pulitzer Prize-winning composer Du Yun 杜韵, the musical premiered in Shanghai to rave reviews.
In 2018, Dim Sum Warriors the Musical embarked on an epic tour of 25 major cities in China, reaching over 30,000 audience members.
Witnessing the enthusiastic response of children to their characters and stories, Yen Yen and Colin decided to come out with a bilingual series for younger readers—Little Dim Sum Warriors 小小点心侠.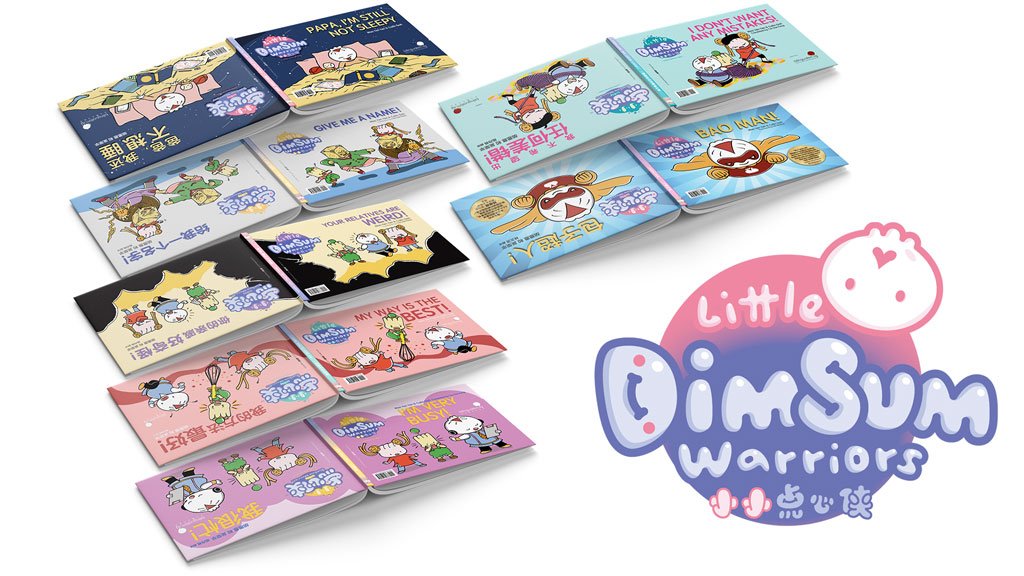 Leveraging on Yen Yen's education expertise and their cultural production experience, they then crafted an entire multimodal learning system around the Little Dim Sum Warriors—and came up with the Dim Sum Warriors Learning System.
Tailored to fulfill the OECD's new PISA Global Competence framework, the learning system has also been certified for pedagogical quality by Education Alliance Finland, the world's most thorough edtech impact verification service. Responses from parents, educators, experts and kids has also been overwhelmingly enthusiastic. In 2021, Dim Sum Warriors won the Merit Award and Most Popular Award at the inaugural Singapore Creator Awards. Yen Yen has now quit her tenured professorship to concentrate full-time on Dim Sum Warriors.
In many ways, Dim Sum Warriors is the distillation of their eclectic work history—in education, storytelling, cartooning, language, film, theatre and multimedia production, and of course, parenthood.
Yen Yen and Colin hope that the Dim Sum Warriors can provide a nurturing environment for kids to pick up essential skills to not just cope with, but thrive in a constantly changing world—adaptability, resilience and creativity. As people who've transformed themselves, they have a lot to share.