Relaxed. Funny. Bilingual.
Unlock all our stories, videos & features!

包子
BAOZI
Steamed barbecue meat bun
叉烧包 (Chāshāo bāo)
Bighearted Baozi is generous and jolly, though he is a little pampered and can be fussy and lazy at times.

虾饺
XIAJIAO
Steamed shrimp dumpling
虾饺 (Xiā jiǎo)
Bravehearted Xiajiao is bold and always stands up for what she believes in! But she can be a little hot-tempered and rash…

烧卖
SHAOMAI
Steamed meat and shrimp dumpling
烧卖 (Shāomai)
Purehearted Shaomai is very innocent and kind, but gets stressed easily over whether he's doing the right thing.

包妈妈 
MAMA BAO
Custard Bun
奶黄包 (Nǎi huáng bāo)
Mama Bao is a go-getting, multi-tasking, no-nonsense mom.

包爸爸 
PAPA BAO
Red Bean Bun
豆沙包 (Dòushā bāo)
Papa Bao can get stressed over very small things!

凤爪 (鸡脚)师父
MASTER PHOENIX CLAW (Chicken Foot)
Chicken Foot 鸡脚 (Jī jiǎo)
Phoenix Claw 凤爪(Fèng zhuǎ)
The kids' teacher. Often grouchy!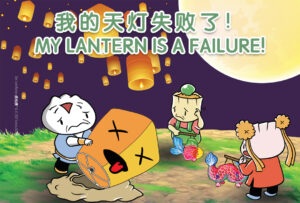 STORY #20
It's the Mid-Autumn Festival and Baozi tries to impress Xiajiao and Shaomai with his sky lantern, but…
中秋节来临了!包子使出浑身解术,想让虾饺和烧卖对他的天灯刮目相看,没想到……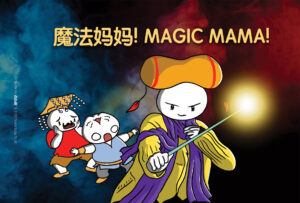 STORY #19
Baozi and Papa are mystified at how Mama gets so many things done… is she using magic?
包子和爸爸不明白妈妈怎么能做这么多事情……她是在用魔法吗?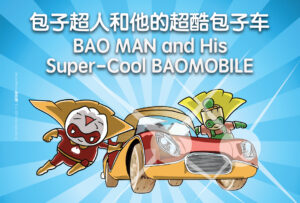 STORY #18
Baoman roars to the aid of Dim Sum City residents in his super-cool Baomobile! But he is shocked to learn that he may be harming people instead of helping them.
包子超人总是开着他的超酷跑车—包子车—轰隆隆地在点心城里奔波助人,但包子却被告知一个惊人的事实:比起助人,他更可能正在害人!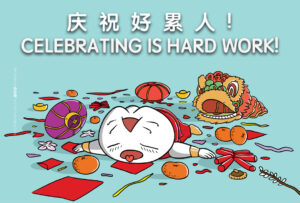 STORY #17
Baozi shares lunar new year traditions with his friend, and about how much work they involve. An informative and hilarious look at the Chinese New Year.
包子跟外国朋友分享春节的传统习俗。一个对春节的全新观点。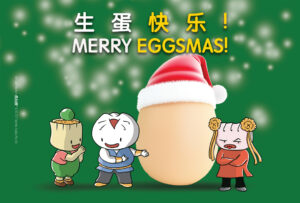 STORY #16
Eggsmas is the Winter festival in the Dim Sum Warriors universe, and Shaomai gets anxious when Baozi tells him Father Eggsmas only gives presents to good eggs, not bad eggs.
生蛋节是点心侠宇宙著名的冬季庆典,当烧卖透过包子得知生蛋老人只会给乖乖蛋礼物,不给坏坏蛋任何东西,他輾转难眠。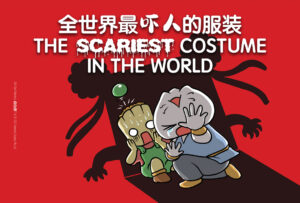 STORY #15
It's Halloween and Xiajiao just can't scare Shaomai and Baozi with any of her costumes. Then she has an idea…
万圣节到啦!但虾饺用尽浑身解数,依旧无法成功吓到包子和烧卖,因此,她想出一个绝妙的点子……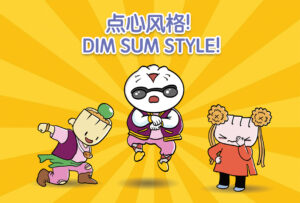 STORY #14
Baozi and Shaomai want to form a trendy boy band, but Xiajiao is not impressed.
包子和烧卖想组一个男子天团,但虾饺可不敢苟同。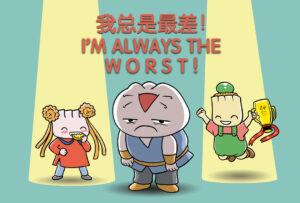 STORY #13
Baozi feels sad because he always comes in last in every contest.
包子很气馁,因为他做什么都最后一名。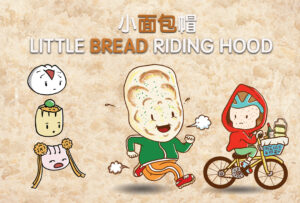 STORY #12
A Dim Sum Warriors fairy tale: Little Bread Riding Hood is bringing food to her Grandma, when she meets someone unexpected…
点心侠童话:很久很久以前,小面包帽要拿点心去给奶奶吃,途中,她巧遇了某人……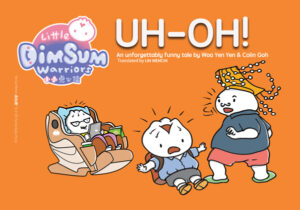 STORY #11
Papa Bao has to get Baozi to school on time… and that's not easy.
包爸爸要让包子准时去上学,但……那可不是件简单的差事啊!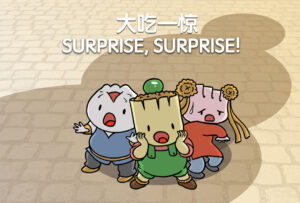 STORY #10
Xiajiao is surprised to find a cake in the middle of nowhere… and what she does leads to even more surprises!
虾饺在四下无人时发现了块美味的蛋糕十分惊喜,但她接下来的行为,将带给她更大的惊喜!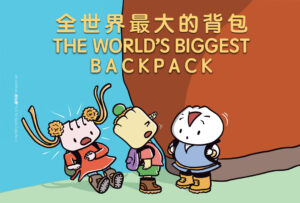 STORY #9
Xiajiao and Shaomai are stunned when Baozi brings along a MASSIVE backpack for their hike. What could he have packed in it?
为了远足,包子准备了一个超级大背包,并把虾饺和烧卖震慑住了。究竟包子的背包里都装了些什么呢?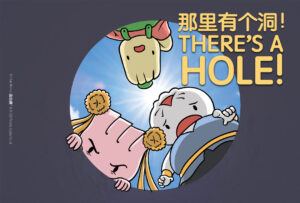 STORY #8
Baozi and Xiajiao find a mysterious hole and argue over who should do something about it.
包子和虾饺在路上发现了一个洞,并为了谁要为此有所作为争论不休。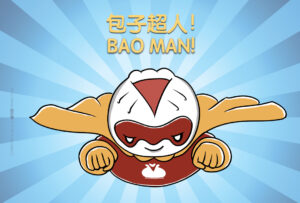 STORY #7
Baozi is Bao Man—a superhero with a very unusual superpower. Does he still count?
包子变成了包子超人!但他的超能力如此与众不同,真的算超人吗?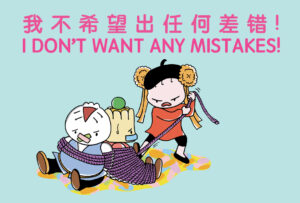 STORY #6
Xiajiao is working on her artistic masterpiece… and anyone who gets in her way is in for big trouble!
虾饺正专心做着她未来的大师之作,任何胆敢打扰到她的人,将会有大麻烦!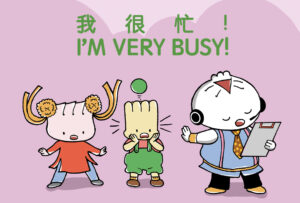 STORY #5
Is Baozi really too busy to play with Xiajiao and Shaomai… or is something else going on?
包子是真的忙到没空跟虾饺和烧卖玩吗?还是发生了什么事?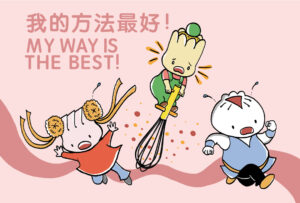 STORY #4
Baozi and Xiajiao argue over the best technique for teaching Shaomai how to bounce on a Boing Boing Bat, so Shaomai has to create his own way.
包子和虾饺为了要怎么教烧卖玩蹦蹦棒争论不休, 烧卖只好自己想出解决方法方法。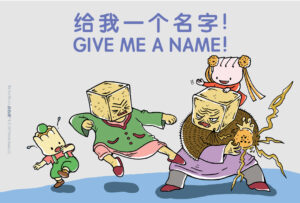 STORY #3
When Shaomai is asked by Xiajiao to suggest a name for her cartoon character, she learns an unexpected lesson about respecting another's imagination.
当虾饺请烧卖给她的卡通人物命名时,无意中学到了如何尊重别人的创意。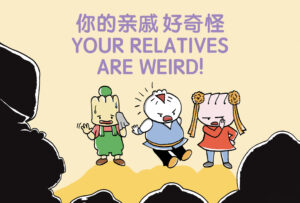 STORY #2
When Xiajiao comments that Baozi's cousins are weird, she soon learns that "they" are often very similar to "us".
当虾饺觉得包子的表亲很奇怪时,她学到其实 "他们" 和 "我们"  是一样的。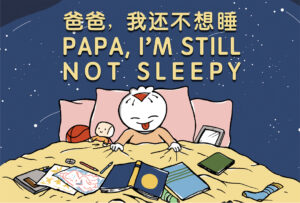 STORY #1
Papa Bao tries—very, very, very hard—to put Baozi to bed…
包爸爸费尽千辛万苦试图哄包子睡觉。
Get these delightful bilingual Dim Sum Warriors stories in print or in the APP!