Unlock the full benefits of our innovative language learning system by joining the DIM SUM WARRIORS CLUB!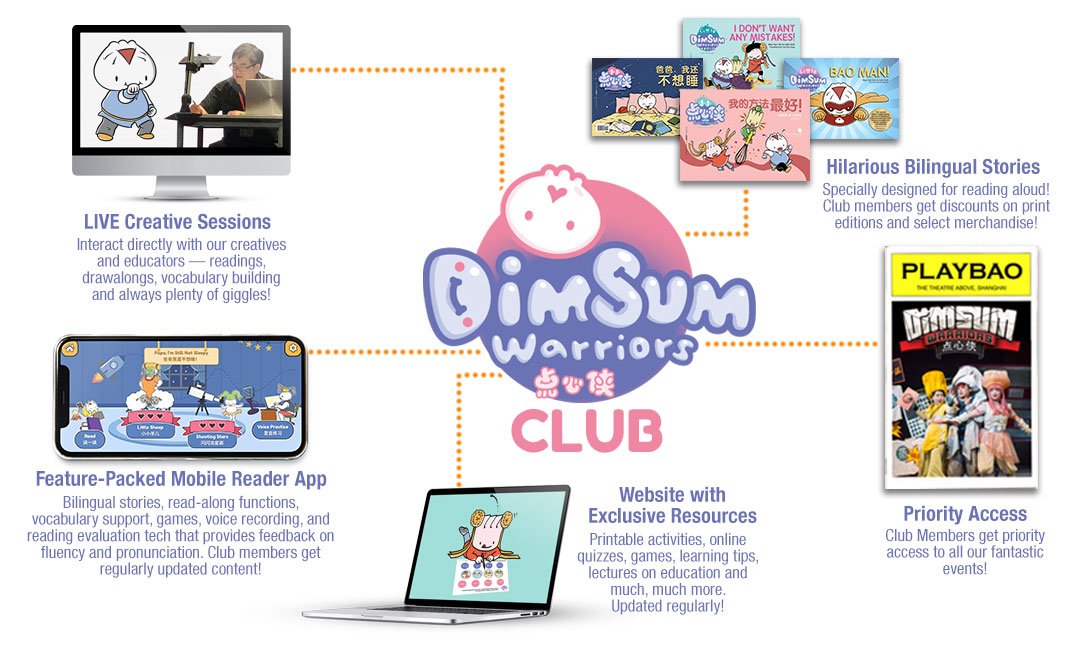 The Dim Sum Warriors Mobile Comic Reader App
With our app, your kids can read entertaining and educational bilingual comic books on their own, and practice reading aloud with immediate feedback, anywhere, anytime!
Read hilarious bilingual comic stories
Hear the stories performed by actors—in both languages
Record their own reading
Get immediate feedback on pronunciation and fluency through our US patent-pending reading evaluation system
Play games that boost vocabulary
Get new content—updated every month!
Club members get access to all the functions and updates!
PLEASE NOTE: The Dim Sum Warriors App is now available in the App Store and the Google Play Store for FREE download, but ONLY SUBSCRIBERS get access to the monthly updates and new content.
With the Club Membership, you get all the benefits of the App Membership PLUS:
•  Our thrice-monthly Club LIVE! Creative sessions, featuring story readings, drawalongs, interactions with artists and educators, vocabulary-building, and lots of fun!
•  Exclusive access to the regularly updated content in the Club section of our website—including printable activities, quizzes, online games, learning tips, feature articles and more!
•  Priority access to news, deals and events such as book signings, personal and character appearances and our stage performances!
APP Membership
Dim Sum Warriors Club Live! creative sessions
Club Web Content and Activities
Basic App features
Full App features
Bilingual Comic Stories
Bilingual Readaloud by Actors
Voice Recording function
Reading Evaluation Tech
Discounts on books and select merchandise
Email newsletter
Priority access to news, events and deals
CLUB Membership
Dim Sum Warriors Club Live! creative sessions
Club Web Content and Activities
Basic App features
Full App features
Bilingual Comic Stories
Bilingual Readaloud by Actors
Voice Recording function
Reading Evaluation Tech
Discounts on books and select merchandise
Email newsletter
Priority access to news, events and deals