You all showed such amazing imagination, creativity and humour!
The Judges had a really tough time choosing the 3 winners—every single entry made us giggle and gasp with admiration. 
We were looking for mascots we felt displayed a special combination of:
(1) Unexpected humour
(2) Unusual combination of elements
(3) Design
(4) Observation of Singaporean elements/behaviours
(5) Drawing ability
Every single entry met 2 or more of these criteria!
Said judge award-winning designer Jackson Tan, "I had a hard time choosing the winners, as all the entries were really awesome and very Singaporean! Keep imagining and designing your own SG icons!"
In the end, following very impassioned discussion, the Judges decided that the following 3 submissions had a particularly magical combination of the 5 elements…
Congratulations to our 3 Winners!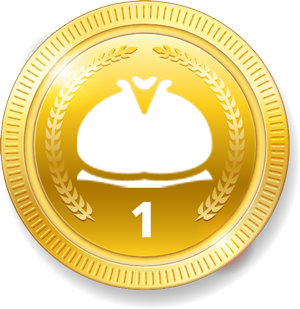 1st Prize
RAINBOW LAPIS SAGU HDB BLOCK 
by Kaysha Heng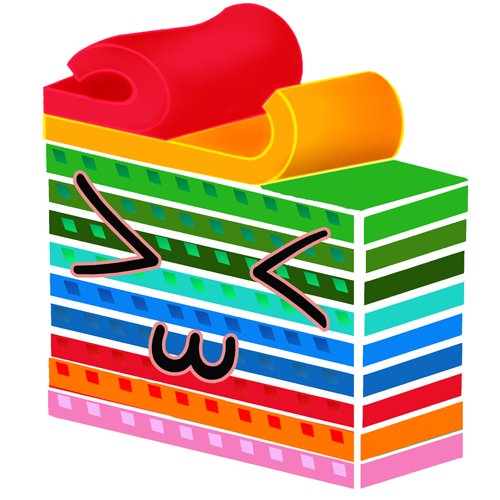 Kaysha explains: "The design is inspired by my favourite local snack: the Rainbow Lapis Sagu Kueh. I love the stretchy texture, vibrant colours, the coconut aroma and peeling layer by layer when I eat it. Its unique silhouette resembles our HDB Block apartments, and the multi-racial (colours) families that live within a block."
Judges' comment: We love how you observed that the shape of the lapis sagu resembles our HDB blocks, and how you connected the rainbow colours to the many races living in each block. You made some very meaningful and moving connections. And putting it all together in a colourful design—including the peeling layers—was also very clever. Fabulous work!
Kaysha wins our First Prize:
A huge set of 168 Touch Twin Tip Pen Markers—what Uncle Colin uses to colour all his drawings during the Bilingual Comic Jams and 成语成画 Doodle Dates!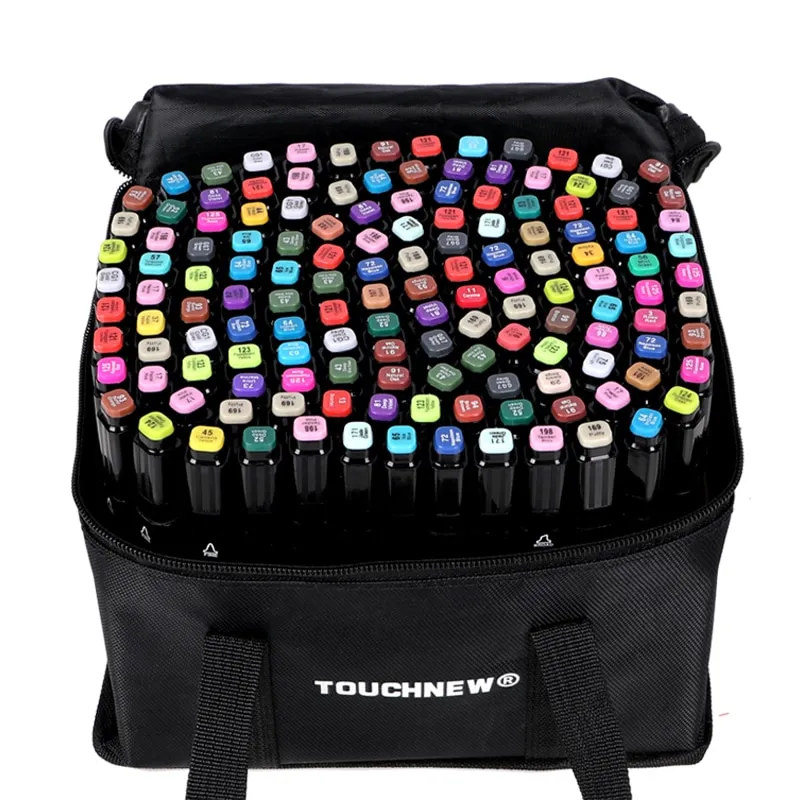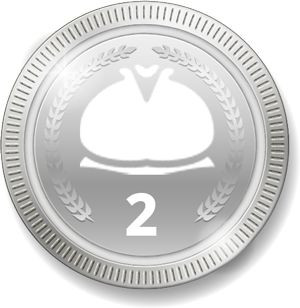 2nd Prize
SUPER CHOPE
by Isaac Kum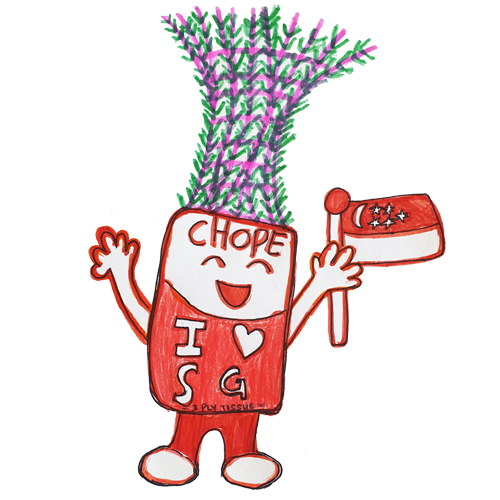 Isaac explains: This is a packet of tissue with the word 'Chope'. In Singapore, people use tissue packets to 'chope' (reserve) tables or seats at the hawker centre. On top of Chope Tissue is the Super Tree from Gardens By The Bay, which is a beautiful garden visited by millons of tourists. This mascot is Super Chope!!"
Judges' comment: Congratulations, Isaac! Using tissue paper packets to reserve tables is a uniquely Singaporean practice that cuts across all races, and it's very observant of you to use that in your design. And to combine that with the Super Trees, which have become such a strong symbol of modern Singapore, is just… crazy! The good kind of crazy!
Isaac wins our Second Prize:

A set of 100 colour fine-tipped dual-headed watercolour brush pens!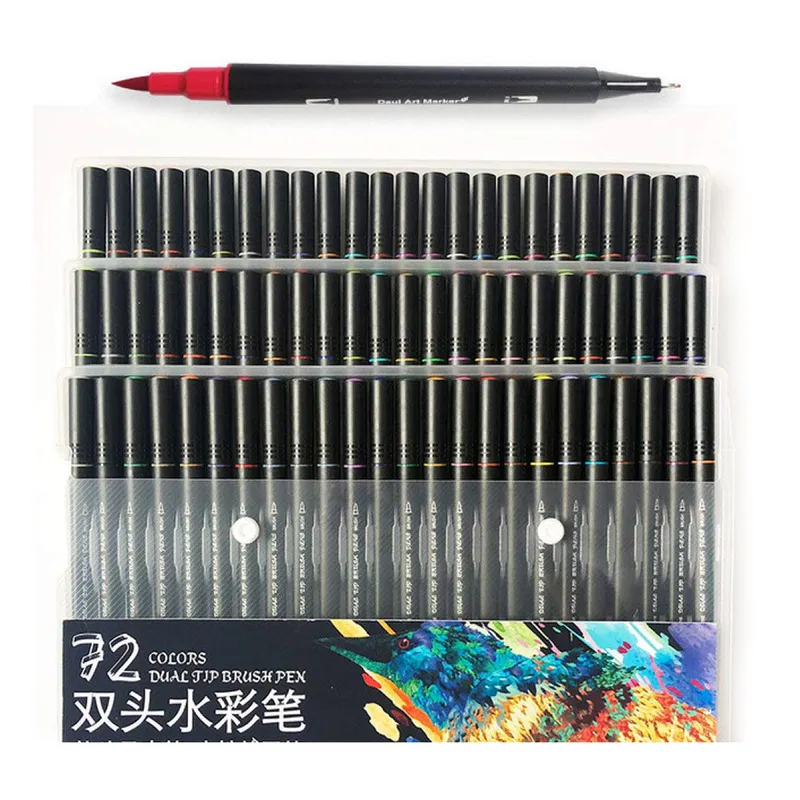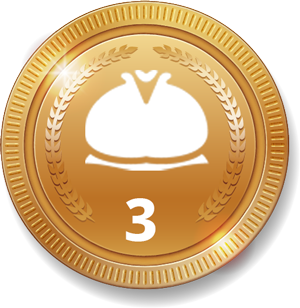 3rd Prize
KACHANGI
by Lucas Lim Yuzhe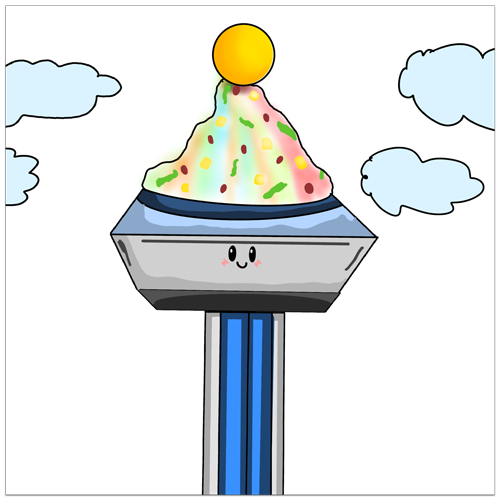 Lucas explains: "This SG mascot is called Mr Kachangi. I love going to Changi Airport because it is very big and has air-con. Tourists who arrive in Singapore also always praise our airport. I added in the ice kachang because it shows the colourful side of Singapore and it's also good to eat on hot days!"
Judges' comment: Well done, Lucas! We liked that your mascot not only combined Changi Airport and Ice Kachang visually, but you used a clever pun as well by naming it 'Kachangi'. If we were running a dessert shop in Jewel, we would definitely contact you to get a license to sell 'ice kachangi'!
Lucas wins our Third Prize:

A set of 5 limited edition Sakura Pigma Micron pens—exactly what Uncle Colin uses to draw!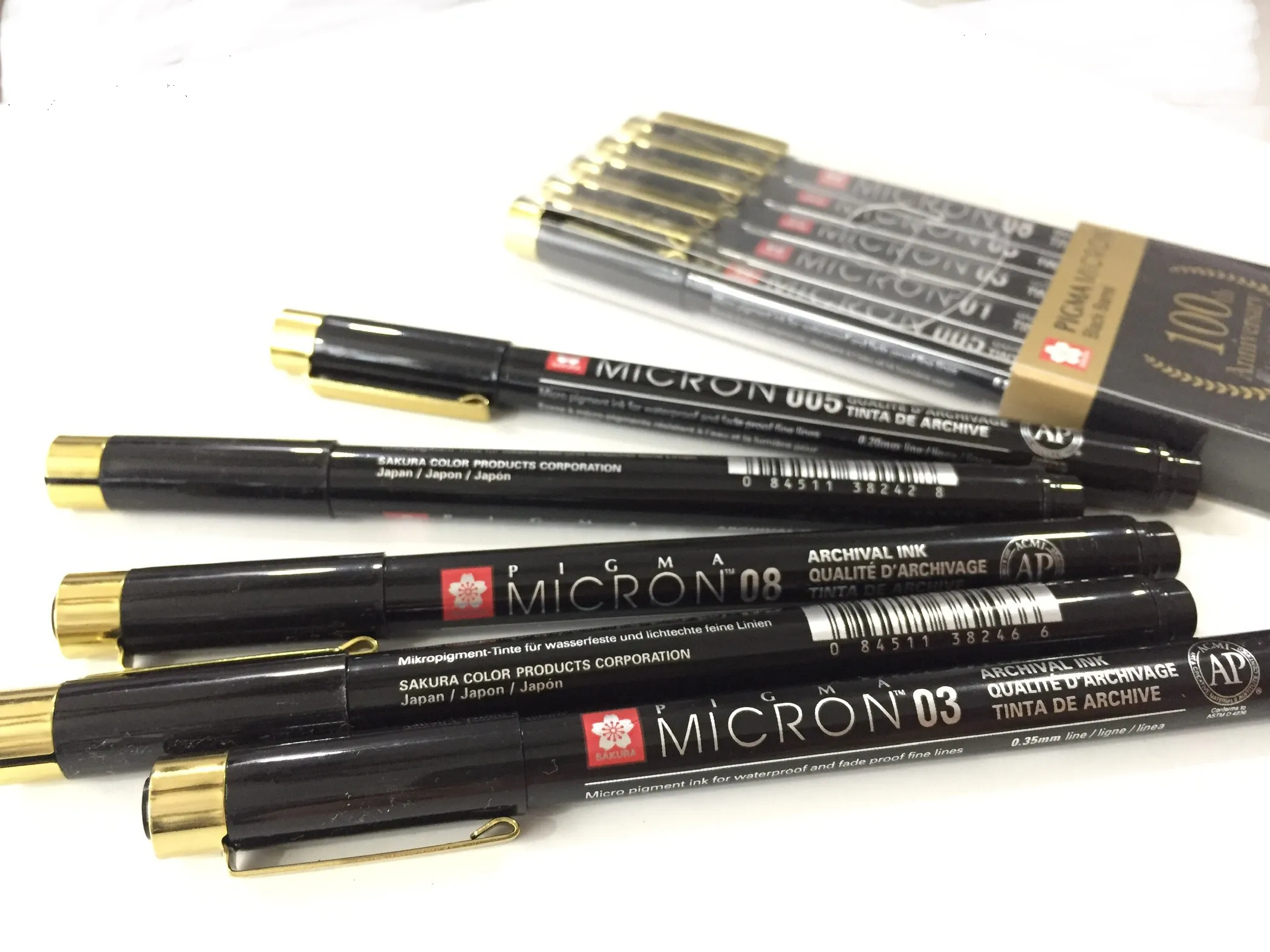 Here are some entries we felt deserved a special mention.
Durian Monkey
by Zahra Ruiying Zulkarnaen
ZZ explains: "My mascot is Durian Monkey because durians are most Singaporean's favourite food and durian is also the Esplanade's nickname and monkeys are seen throughout Singapore!"
Judges' comment: We actually found this very artistic, ZZ! We really like the subtle shades of green in the durian, and there is a wildness to the vines and fireworks, as well as the monkey's smile, that make it very intriguing. You might want to explore the art of Marc Chagall and Henri Matisse.
Chilli Crab Playground
by Cheng Yue Han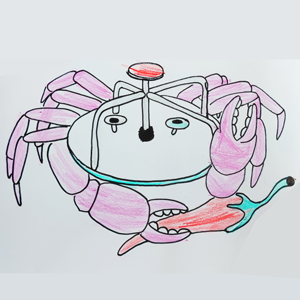 Yue Han explains: "My father loves to eat chilli crab and I love to play in playground. I have always been curious if there is a crab playground to play with, they have so many legs, must be so fun."
Judges' comment: Amazingly imaginative design work, Yue Han! We love how you've made the seats the eyes of the crab, and the merry-go-round the crab's shell. Very cool, and we love how much effort you put into using perspective in your drawing.
Puffy Lion, Fishball Sheep & Porcurian
by Xavier Teh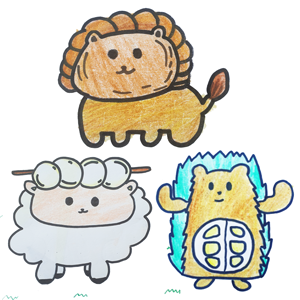 Xavier explains:
"Puffy Lion: the curry puff is Singapore's favourite snack, loved by all races. The lion's manes and face is the curry puff! As both have the same similarities which is the mane, I came up with this design. Presenting the Puffy Lion! Be sure to hear it's puffy roar!"
"Fishball Sheep: I drew fishballs in place of the sheep's curly wool on top of its head. The fishball resembles the wool of the sheep and has the stick for the fishballs. Remember to welcome the Fishball Sheep and do not steal it's precious fishballs!
"Porcurian: This spikey little creature's spikes resembles Singapore's favourite fruit, the durian! The porcupine's six-pack muscles is the yellow flesh! I combine both together to form the Porcurian! Be careful not to get pricked by it!"
Judges' comment: Nice work, Xavier. You have a good grasp of cute character design—the kind that would do well for apparel or toys! Keep designing!
Crimson Sunbird with Kopi-O
by Chevonne Chia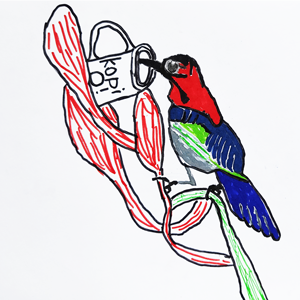 Chevonne explains: "Most people do not realise that we actually have a Singapore national bird, the Crimson Sunbird, though it may be unofficial. So I have decided to mash the bird with a cup of Kopi-O, which is a well-known and favourite beverage of Singaporeans."
Judges' comment: Really nice drawing, Chevonne! We like your contrast of block colours and strokes. Having a bird sipping kopi-O is also very charming and whimsical. (It might have trouble sleeping, though.) This would actually make a very nice print that we'd happily hang up on our walls.
Crabby Chicken
by Kayden Tan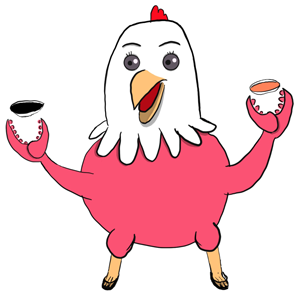 Kayden explains: "My concept is a mixture of the famous Singaporean dishes chilli crab and chicken rice. The Crabby Chicken is holding up two sauces: Soy sauce and chilli. The name Crabby Chicken is also a pun, for 'crabby' has another meaning of irritable. It is also wearing slippers, like most Singaporeans do."
Judges' comment: Very nice and clean linework, Kayden! We love your clever use of red and white, the detail on the crab claws, as well as the double meaning of crabby. And let's not forget those slippers! Awesome work.
Curry Puff Crab and Slothy Trees
by Adelle Heng Ruo Xi
Adelle explains:
"Curry Puff Crab: the Mascot is like a crab shaped like a Curry Puff, a popular Singaporean snack- it's a miniature pie filled with curry in a baked pastry shell usually in the shape of a semi-circle. Fillings are chicken curry with potato, but also come in variants like tuna curry or even chili crab filling. My daddy loves eating this every week!"
"Slothy Trees: Singapore is famous for our greenery and abundance of trees. My Mascot, named 'Slothy' likes taking it slow to enjoy our beautiful nature we have and encourages all Singaporeans to take quality time to appreciate the little things in life. Slothy says 'Relax Bro'!
Judges' comment: Two lovely entries, Adelle! Your linework is very confident and you actually made us want to go out and get some curry puffs! We also love your message of taking things a bit slower and enjoying nature.
Botanical Otter
by Khoo Yue En Keziah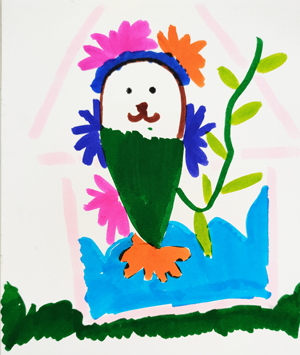 Keziah explains: "My new Singapore mascot is the 'Botanical Otter', as I like the Botanic Gardens, and otters."
Judges' comment: You did a really pretty design, Keziah. You conveyed the otter's cute face effectively with only a few strokes, and we love the bold, graphic representation of the flowers, grennery and water. You might want to explore the cut-out art of Henri Matisse.
Dragon Playground
by Hannah Chia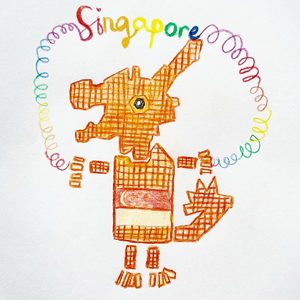 Hannah explains: "The colour of Dragon Playground matches Singapore's flag. This is a popular playground that represents Singapore."
Judges' comment: You did an excellent job turning the playground into a character, Hannah! And we love the the rainbow 'Singapore' slinky skipping rope. Some toy manufacturer should license it from you and produce it! Your design would actually make a great logo.
Dragon Playground
by Rachel Chia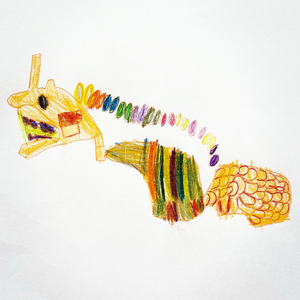 Rachel explains: "The dragon mascot will help to eat up the bad people at the playground."
Judges' comment: We're guessing you're Hannah's sister, Rachel. You made a really interesting and kind-of cool yet kind-of scary dragon. We like it a lot, especially your use of colour. There should totally be a dragon to eat up bad people at the playground! Ask your parents to speak to your MP to provide them at every playground!
Singa Chicken Rice Udon
by Ysabel Tan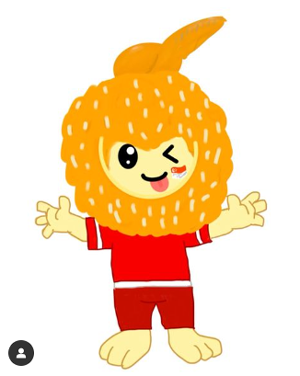 Ysabel explains: "SingaRice🍗🍚: the kindest lion with chicken rice hair and chicken wing as hair clip, whose favorite food is, of course, chicken rice! I thought of lion and chicken rice because Singapore is lion city and chicken rice is my favorite Singapore food."
Judges' comment: The lion's mane as a scoop of chicken rice and the chicken wing as a hair clip are very inspired and humorous choices!
Satay Peacock
by Darryl Watt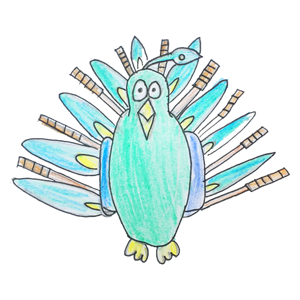 Darryl explains: "This is a satay peacock. I drew this because the peacock has beautiful feathers and I like to eat satay. The satay looks like feathers."
Judges' comment: Never in a million years would we have thought of using satay as a peacock's feathers, so you scored very highly in terms of imagination! We also love the slightly bewildered look on the peacock!
Mi-Lion
by Jean Lee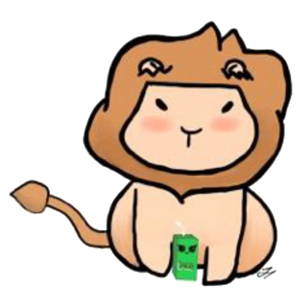 Jean explains: "My #newsgmascot is the Mi-Lion because the lion represents Singapore & everyone in Singapore loves Milo!"
Judges' comment: It's true! Everyone we know loves Milo too! Super-cute lion, and super-cute Milo packet too. Really nice drawing style, Jean.
Vanda Miss Bandung
by Joan Lee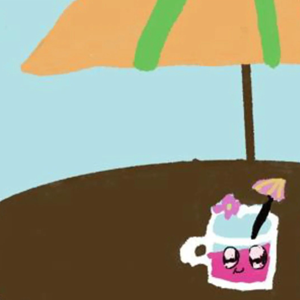 Joan explains: "My #newsgmascot is the Vanda Miss Bandung because Vanda Miss Joaquim and Bandung look pretty in pink together!"
Judges' comment: It's very clever of you, Joan, to combine a flower-flavoured drink (bandung is rose-flavoured) with an actual flower! Now you've got us wondering what the Vanda Miss Joaquim tastes like…
A giant thank you to every one who participated! You are all stars!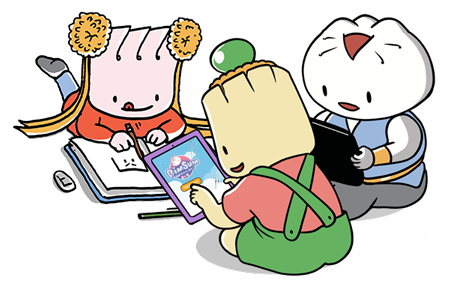 In the Dim Sum Warriors Club, we work with kids to expand their perception of what creativity and language learning looks like— with livestream draw-along sessions, hundreds of draw-along videos, and hilarious bilingual stories!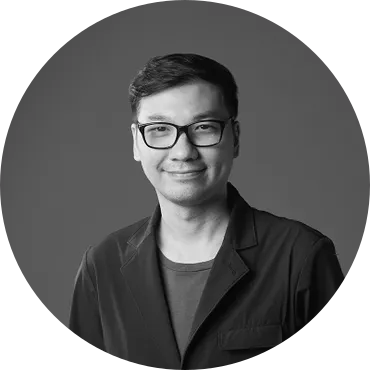 JACKSON TAN
Creator, ART-ZOO
Jackson Tan is an artist, designer and curator. He is the creative director of BLACK, a multi-disciplinary creative agency and founding partner of PHUNK, a contemporary art & design collective based in Singapore. His works have been featured in numerous exhibitions including Singapore Art Museum, MOCA Taipei, and the Venice Biennale. He also created the wildly popular ART-ZOO inflatable playgrounds which have been installed at Marina Bay in Singapore, as well as cities like Kaohsiung, Beijing, Shenzhen, Xiamen, Zhengzhou and Abu Dhabi. www.artzooworld.com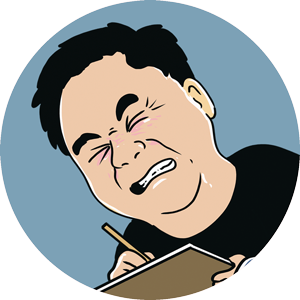 "Uncle" COLIN GOH
Co-creator, Dim Sum Warriors
Colin Goh was the first Singaporean to draw a daily comic strip in the newspapers, and he founded pioneering satirical website TalkingCock.com, which has been debated in Singapore's parliament and even mentioned in Wikileaks. He's also a lawyer in 3 different jurisdictions and the cartoonist behind two New York Times bestsellers. Together with his wife and partner Woo Yen Yen, he has made award-winning feature films and created the children's comic series Dim Sum Warriors, which was adapted into a giant musical in China, acquired by international publishing giant Scholastic, and is now the foundation of a multiplatform bilingual language learning system. No wonder he doesn't get enough sleep.