Exclusive Deal for POSB Parents!
Special bilingual eBook and homestudy guide that will keep your little dumplings laughing while they learn!
Want more bilingual stories? Get the DIM SUM WARRIORS App!
FREE 6-Month Subscription to the DIM SUM WARRIORS APP!
The DIM SUM WARRIORS App will delight your kids for hours with:

💥 Hilarious bilingual comic stories—toggle between languages easily!
💥 Actors reading the stories in both English and Chinese!
💥 Vocabulary-building games!
💥 Cutting-edge reading evaluation tech—record your voice, and get immediate feedback on pronunciation and fluency!
And you can have peace of mind–our App is designed by education experts and award-winning artists, and independently certified for high pedagogical quality by Education Alliance Finland, one of the world's top edtech impact verification agencies!
Rest assured that there are absolutely no external ads or social media links. We value your child's privacy and safety! Please read our Privacy Policy and Terms & Conditions.
Step 3:
Log in with your username and password to open up ALL stories, ALL games and ALL bilingual features! New stories are added every month!
*Note: Offer expires at midnight UTC+8 of 31 July 2021. Every month for the next 6 months, you will have a code applied at renewal to keep your app subscription FREE, i,e, you will be getting 1 month free six times. After 6 months, regular subscription terms apply and you will be asked to pay the prevailing subscription price. However, you may cancel your subscription at anytime. T&Cs apply. Please refer to our Terms & Conditions for details.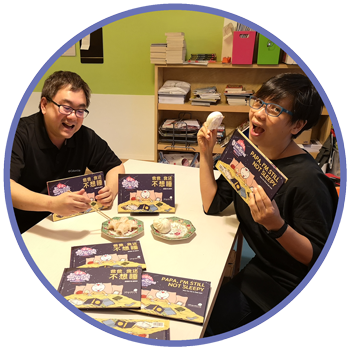 A Note from the Creators
Too many kids have had 2nd language learning experiences that make them feel bad—to the point that some even think they're just "naturally bad" at the language.
That's why we created the Dim Sum Warriors Learning System—so kids will willingly pick up Chinese content, enjoy the experience and persist with learning. We have a feature-packed app, beautifully bound hardcover bilingual books, online learning resources and also creative livestream sessions.
Our system is based on Yen Yen's years of researching cutting-edge developments in literacy, linguistics and pedagogy as a professor in the field of education. We know our approach works. Despite our first language being English, we've written a giant musical that's been performed in over 25 major Chinese cities, and we've also watched our own daughter go from zero Chinese to reading Chinese novels within 3 years.  And don't just take our word for it! Dim Sum Warriors has been independently certified for high pedagogical quality by the experts at Education Alliance Finland—one of the world's premier edtech impact verification agencies!
It makes us smile when our kids are laughing and learning.
We can choose learning experiences that make kids feel good about themselves!
Dr. Woo Yen Yen | Ed. D (Teachers College, Columbia University, New York)
Colin Goh | LL.B (London); LL.M (Columbia University School of Law)
Look at what parents, educators, experts and kids
are saying about Dim Sum Warriors!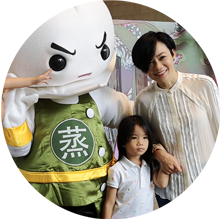 "我七岁的女儿不停的重读《小小点心侠》的故事书。她觉得内容很滑稽,每次阅读时都哈哈大笑!"
"My 7-year-old daughter keeps re-reading the Little Dim Sum Warriors books. She thinks they're really funny, and she laughs every time she reads them."
YEO YANN YANN 杨雁雁
Winner of the Golden Horse Award for Best Actress
金马奖"最佳女主角奖"得主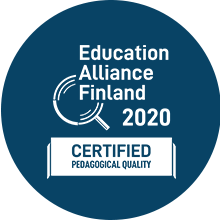 The Dim Sum Warriors App gives plenty of freedom for practice: It's easy to toggle from one language to another, limitless possibilities to listen and re-listen to the stories / words, possibility to look into a keyword more closely, a chance to record and listen to your own reading, with good feedback from the solution about the pronunciation. The Dim Sum Warriors Curriculum has:
1. Extensive, detailed and yet easy to access materials for educators to ensure successful learning experiences for the students.
2. Visually appealing and easy to use digital application to support and diversify the learning process.
3. Learning through stories that happens naturally and supports a bi-lingual approach
EDUCATION ALLIANCE FINLAND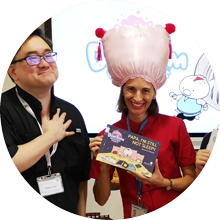 "The students and staff at our school absolutely adore the Little Dim Sum Warriors books. They tick so many boxes for books that are in high demand by students and staff. They are funny, they are bilingual, and they are comic style picture books. Fantastic illustrations, brilliant text and a must have for all libraries!"
SARAH MOUNSEY
Director of Libraries, Dulwich College (Singapore)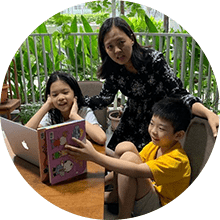 "Dim Sum Warriors has provided a great platform for Chinese supplementary reading materials. My children love the stories and drawings and I find the quizzes and worksheets very helpful for learning. We thoroughly enjoyed watching the videos too. Comic characters that came out from our daily life, that's something that kids can really connect to!"
KOH LENG LENG
Assistant Head, Faculty of Languages, ACS International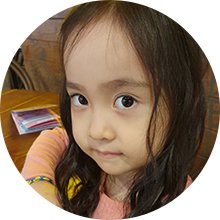 "It's great because it can read to you and it can change the language and you can even record yourself reading the book."
AHYEON CHOI
Age 6
To give you and your kids extra motivation:
After you read the stories in the app, come meet the creators of the Dim Sum Warriors together with a certified Chinese teacher at our FREE Chinese-English Doodle Date this June, where you can ask questions about the books and the stories!
The Doodle Dates are 20-minute bilingual sessions streamed on our Dim Sum Warriors Doodle Date Facebook Group, where our artist will draw what the audience suggests—and everyone can draw along and learn accompanying words and phrases in both English and Chinese.
It's always a lot of fun, and we've even been told that entire families join in too!  Learn More