Yummy 7 Bilingual Book Set + Bonus App Subscription
A special set of 7 of our Little Dim Sum Warriors bilingual hardcover children's books, featuring the crazy yet relatable adventures of Baozi 包子, Xiajiao 虾饺 and Shaomai 烧卖—three little heroes with a lot of heart!
Bonus: FREE Subscription to our award-winning App included! You will receive an email with download instructions.
Got a special coupon code* for FREE SHIPPING? Don't forget to add it during checkout!
*Note: Our free shipping coupon cannot be used when purchasing other products like our Lucky 8 bundle. Sorry!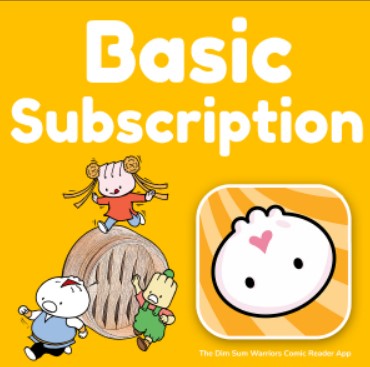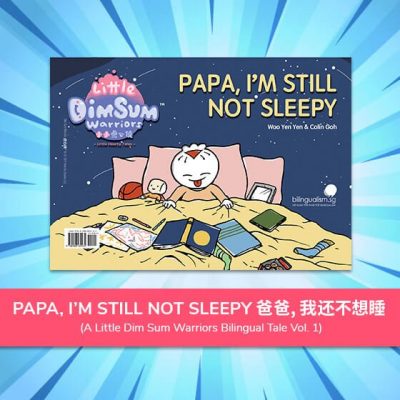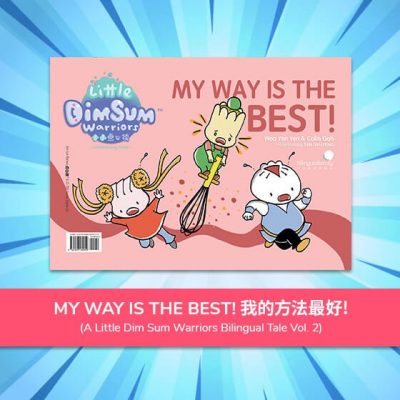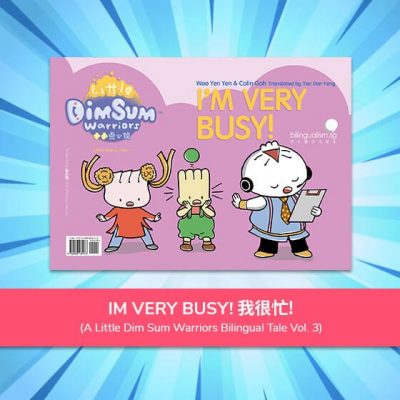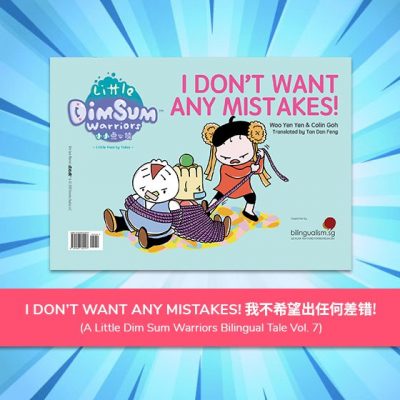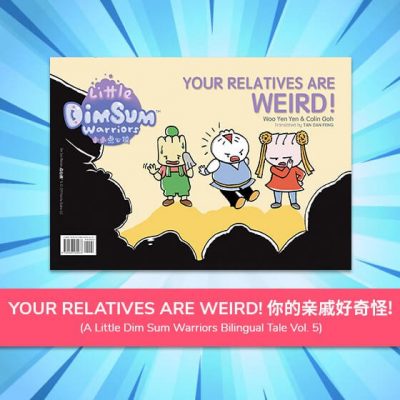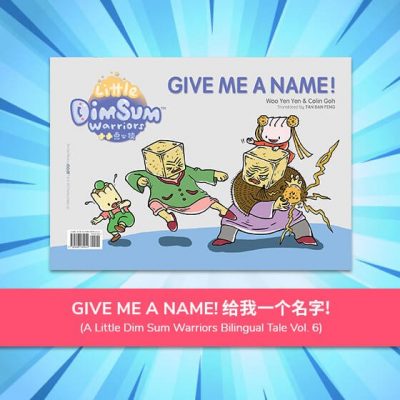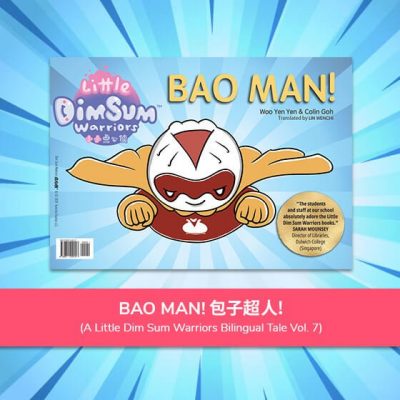 7 Hilarious Storybooks!
The Little Dim Sum Warriors series of deluxe bilingual hardcover storybooks are designed to help kids learn languages effectively through engaging content that they will treasure and love!
The books may be read in any order, and independent of each other. The grammar is kept consistently simple and conversational. Certain books may contain instances where more sophisticated vocabulary is used. Recommended for Ages 5-11.
Beautifully Hardbound Bilingual (Chinese-English) Editions
Read them in one language, then flip them over to read them again in another! Great for bedtime and as gifts!
Stories & Adorable Characters by Expert Educators and Award-Winning Creators
This means kids will willingly read the books on their own. They'll be too busy giggling to notice they're actually learning too!
---
This Yummy 7 Bilingual Book Set includes the following titles:
BOOK 1: PAPA I'M STILL NOT SLEEPY 爸爸, 我还不想睡!
It's time for Chashao Bao to go to sleep … but he's not giving in without a fight! All parents (and kids) will identify with this tale.

BOOK 2: YOUR RELATIVES ARE WEIRD 你的亲戚好奇怪!
Xiajiao and Shaomai meet Chashao Bao's relatives and their first impression is… relatively weird. Readers are sure to have their vocabularies extended in this hilarious tale about how people who seem different are actually more alike than we think.
BOOK 3: GIVE ME A NAME 给我一个名字!
Xiajiao and Shaomai have a crazy argument over just who invented Smelly Tofu. A hysterical tale about artistic ownership and how to resolve arguments.

BOOK 4: MY WAY IS THE BEST 我的方法最好!
Baozi and Xiajiao argue over the best technique for teaching Shaomai how to bounce on a Boing Boing Bat, so Shaomai has to create his own way. A great story about how to cope when being bombarded by conflicting advice.
BOOK 5: I'M VERY BUSY 我很忙!
Is Baozi really too busy to play with Xiajiao and Shaomai… or is something else going on? A tale about role-playing and friendship.
BOOK 6: I DON'T WANT ANY MISTAKES 我不希望出任何差错!
Xiajiao is working on her artistic masterpiece… and anyone who gets in her way is in for big trouble! A great book to teach your kids about dealing with frustration.

BOOK 7: BAO MAN 包子超人!
When danger strikes, can superhero Bao Man really save the day? This laugh-out-loud story explores what happens when we don't quite fit the majority's narrative…

Written by award-winning screenwriters Woo Yen Yen & Colin Goh
Curriculum Design by Woo Yen Yen (a former tenured professor from New York in the field of education, with a doctorate from Teachers College, Columbia University)
Translation by Professor Lin Wenchi of Taiwan's National Central University and Tan Dan Feng
PLUS: RESOURCE GUIDE FOR PARENTS, CAREGIVERS, TEACHERS & TUTORS!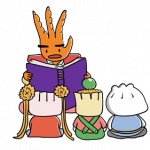 We've created a special guide with story synopses and key vocabulary so that parents, caregivers, teachers and tutors can deepen kids' enjoyment and learning. Perfect for making plans to read together! In fact, you can download the guide NOW.
---
BONUS! FREE SUBSCRIPTION to the award-winning Dim Sum Warriors App!
Support your reading of the 7 stories with the Dim Sum Warriors bilingual comic reader app!
It comes with powerful features like:
The stories performed by real actors at natural speed!
Text that can be toggled between English, simplified Chinese 简体 and traditional Chinese 繁體!
Games that build vocabulary!
Voice recognition tech—practice reading into your device's microphone and get feedback on fluency and pronunciation!
More stories!
Certified for pedagogical quality by Education Alliance Finland—the world's leading edtech impact verification agency.
TERMS & CONDITIONS OF PROMOTIONS AND/OR OFFERS
Please read these terms and conditions carefully before accepting any promotions and/or offers.
All promotions and offers herein are provided by Yumcha Studios Pte Ltd (hereinafter, "Yumcha Studios").
By making any purchase through any of Yumcha Studios' promotions and/or offers, you agree to accept and be bound by these terms and conditions.
Offer Period. Promotions and/or offers are only available for a limited time, which will be specified in the text and wording of the applicable promotion or offer on www.dimsumwarriors.com or our associated social media pages.
Please note that refunds will not be given for purchases made under the terms of promotions and/or offers. This does not affect your statutory rights. Physical goods such as printed books may be exchanged if there is proof of defective condition at the time of receipt, and memberships and subscriptions may be cancelled by contacting us.
Yumcha Studios reserves the right to change or terminate any or all of the promotions and offers at any time without notice and at its sole discretion.
Yumcha Studios reserves the right of final approval of application of promotions and/or offers on its products and/or services.
Yumcha Studios reserves the right to replace any promotions or offers with alternative promotions or offers without prior notice.
The promotions and offers cannot be redeemed or exchanged for cash or cash equivalent, and cannot be used in conjunction with other promotional offers and discounts unless explicitly stated.
Promotions and/or offers cannot be applied to previous purchases.
Offers are non-transferable.
Promotions and offers may be subject to availability.
Yumcha Studios reserves the right to amend these terms and conditions as well as to vary or discontinue any of its promotions and/or offers without prior notice.
In case of disputes concerning promotions and/or offers, the decision of Yumcha Studios shall be final and conclusively binding.
Should there be any inconsistency between the English and Chinese versions of these terms and conditions, the English version shall prevail.
From time to time Yumcha Studios may run promotions and/or offers which are subject to both these Terms and any additional promotion-specific Terms which are incorporated into these Terms by reference. You should ensure that you read the specific terms that apply to each promotion. By proceeding to purchase you agree and accept the Terms of the applicable promotion(s).
FREE SHIPPING
For the duration of this applicable offer, certain intended recipients would have received a special discount code via an email which entitles them to free shipping to valid addresses in the United States of America, United Kingdom, Canada, Australia and the People's Republic of China with every purchase of our Yummy 7 Bilingual Book Set, when purchased on our website using said special discount code.
PLEASE ALSO REFER TO OUR APPLICABLE GENERAL TERMS & CONDITIONS, PRIVACY POLICY AND OUR COOKIES POLICY
Contact Us
If you have any questions about these Terms and Conditions, You can contact Us: