Dear Teachers of Chinese ELLs or Emergent Bilinguals:
I have bilingual stories that will be great for your students and I want to get these stories to your kids——

FREE!

Please get in touch with me as soon as possible at yenyen@dimsumwarriors.com.
Chinese ELLs or Emergent Bilinguals Should Be Supported in Their Home Languages
Our daughter was born in Flushing, Queens, New York and she went to a school district that had many Chinese ELLs (English Language Learners).
For many of her classmates, going to pre-K was the first time that they had been called by their English names.
Several of her classmates didn't respond when the Teacher called out "Emma" or "Ethan", because those were not the names they were called at home. Their parents had given them English names because they were worried that the teachers would not know how to pronounce their children's Chinese names.
As a parent and professor of education, I witnessed how these  students, who spoke Chinese at home, beginning to see themselves as "English Language Learners", and thus playing catch-up with American English and Western-centric American culture. This process of change was often difficult and not-so-gradual.
My daughter told me about an incident in her cafeteria where a few kindergartners started singing a Chinese song and a school aide quickly ran over and told them, "This is not a Chinese school" and "You can only sing English songs."
I found it heartbreaking that these children had to learn at such a young age that their home language and culture had to take second place to English. This wasn't just because I thought it unfair, but also because research has shown this approach to be ineffective.
Researchers and great teachers of second language learners know that for English Language Learners to thrive with confidence and feel positively about learning English, they must have:
Support in their home language, not just the target language;
Multilingual resources. It is most important that their home languages are made visible;
Curriculum that connects to and places a value on their culture; and
Spaces for the ELL students to shine and be able to contribute their knowledge.
Dear Teachers of Chinese ELLs:
I want to ask you to use—and share freely—the Dim Sum Warriors Bilingual Comic App with your students.
The app contains very funny comic stories in English and Chinese (both traditional and simplified scripts) that elementary school-level kids will enjoy.
The stories are specially crafted to spur thinking about important themes such as difference, acceptance, and empathy—all through hilarious stories featuring super-cute dumplings!
You can use the stories in the app to support your Emergent Bilinguals by:
providing support for English language-learning in their home language;
connecting reading to their home language and culture;
providing opportunities for them to share their knowledge with their classmates
These are all in line with the best practices to support Emergent Bilinguals and Multilinguals.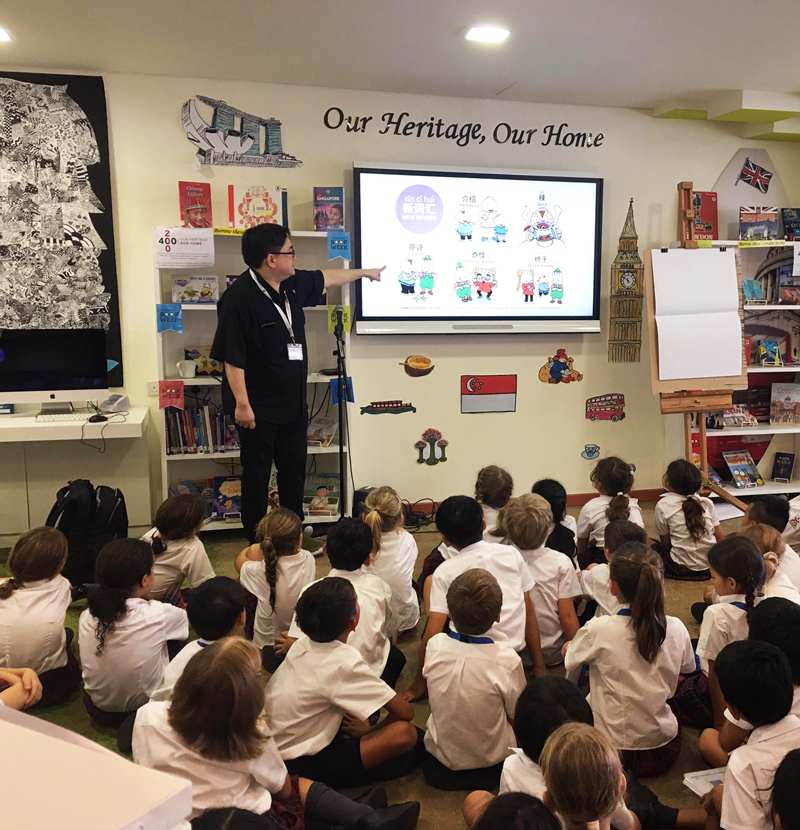 Recently, after running the Dim Sum Warriors program in an international school in Singapore, a parent who had recently relocated from mainland China came to speak to us. She said that her daughter, who spoke mostly Mandarin and had been finding it hard to adjust to the all-English-speaking environment, was very excited  by Dim Sum Warriors. She said, "My daughter is thrilled, because her culture is now cool with her classmates!"
This moved me to tears. It's really what we've been trying to achieve—to help kids feel their culture is represented in the curriculum, and recognized not as exotic, but as cool, and with a great sense of humor. Too often, I've seen Western texts reduce Chinese culture to triangular straw hats, fan dances and tyrannical parents—when there's so much more.
Another teacher in Minnesota emailed me to say that he was trying to reach a Chinese English Language Learner in his class who was withdrawn and quiet in his class, but after reading the stories in the Dim Sum Warriors App, she got very excited and started chatting excitedly about the stories, because they contained elements she recognized, and not in a condescending way. 
Dear Teachers of Chinese ELLs:
I am offering the Dim Sum Warriors app and its bilingual stories about super cute dumplings to classrooms that serve Chinese ELLs.
These are stories the whole class can read in English, and which the ELL students can read in both English and Chinese.
They will also give Chinese ELLs opportunities to share their knowledge and shine for a change.
Please try it, and tell me how it's working out. (And if you ask me to talk to your students as a bilingual creator, my answer is Yes! Yes! Yes!
My contact is: yenyen@dimsumwarriors.com
To sign up for the app and all the stories free, click here
Sincerely,
Dr. Yen Yen Woo
Ed.D (Teachers College, Columbia University)
References:
Beck, Michele, Mihuyn Han, and Shih-Chieh (Angela) Weng (2020). Emotional scaffolding for emergent multilingual learners through translanguaging: case stories. Language and Education, 34(5), 387-406.
MacIntyre, P.D., and T., Gregerson, (2012). Emotions that facilitate language learning: the positive-broadening power of the imagination. Studies In Second Language Learning and Teaching, 2(1), 193-213.
Dr. Yen Yen Woo works on educating for a multicultural and multilingual world through popular culture.  She most recently co-created the Dim Sum Warriors app, characters and stories for Bilingual Learning. She has a Doctorate in Education from Teachers College, Columbia University and has been a tenured professor of education. She is also an award-winning film director and screenwriter. Her works have been licensed by HBO and Netflix and featured on BBC, Fast Company, Wired, and other global publications. Email: yenyen@dimsumwarriors.com.