The fastest way to introduce yourself to the wonders of the Dim Sum Warriors universe? Download our APP and join our Doodle Date!
Join Our Dim Sum Warriors Doodle Date!
Our Bilingual Doodle Dates are FREE 20-minute draw-along and language-learning sessions held on our private Facebook Group, where kids will be immersed naturally in a bilingual (English+Chinese) creative environment.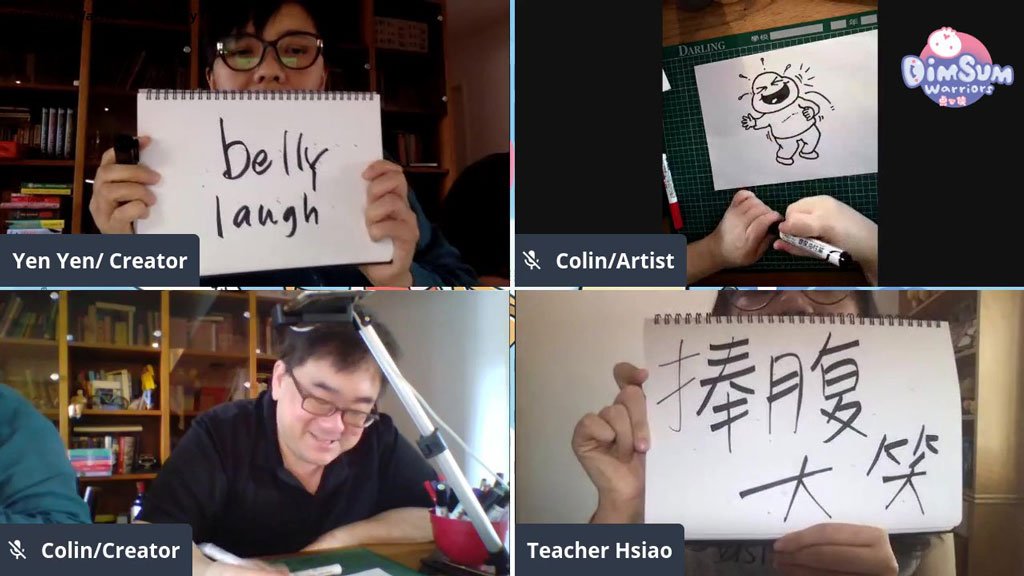 The sessions are hosted by education professor and award-winning filmmaker Dr. WOO Yen Yen together with award-winning screenwriter and cartoonist of New York Times bestselling books Colin GOH and a guest Chinese teacher.
The sessions will consist of 20-minute bilingual sessions where our artist will draw what the audience suggests—and everyone can draw along and learn accompanying words and phrases in both English and Chinese.
It's always a lot of fun, and we've even been told that entire families join in too!
And you and your kids can attend these Doodle Dates completely FREE!
All your kids need to have are pencils (or markers or colour pencils—whatever they like) and paper! 
Our FREE Doodle Dates are usually held on select Saturdays from 10.30-10.50 am (Singapore time UTC+8)
DOWNLOAD OUR APP NOW and get a FREE 6-MONTH SUBSCRIPTION!
Just 3 Easy Steps to get your FREE 6-Month App Subscription!
Step 3:
Log in with your username and password to open up ALL stories, ALL games and ALL bilingual features! New stories are added every month!
*Note: Offer expires at midnight UTC+8 of 31 December 2021. Every month for the next 6 months, you will have a code applied at renewal to keep your app subscription FREE, i,e, you will be getting 1 month free six times. After 6 months, you will be asked if you wish to purchase a subscription. However, you may cancel your subscription at anytime. T&Cs apply. Please refer to our Terms & Conditions for details.
Your kids will read Chinese stories willingly!
Yes, it's possible!
Like you, we've had too many learning experiences that make us feel bad about ourselves with our second language—in our case, Chinese.
It's gotten to the point that many of us start to believe we're just "naturally bad" in Chinese or languages. But it doesn't have to be that way!
Imagine your kids picking up a book in Chinese and enjoying reading it.
Yes, it's possible—with DIM SUM WARRIORS!
The Dim Sum Warriors Learning System is based on cutting-edge research into literacy, linguistics and pedagogy, and constructed by education experts and award-winning artists to make learning languages a joyful experience.
DIM SUM WARRIORS is
Independently Certified for High Pedagogical Quality
Don't just take our word for it! The Dim Sum Warriors Learning System has been independently certified for high pedagogical quality by Education Alliance Finland, the world's leading education technology impact verification service. This means our system has passed rigorous academic, science and evidence-based assessments by professional international educators.

Look at what parents, educators, experts and kids
are saying about Dim Sum Warriors!
"我七岁的女儿不停的重读《小小点心侠》的故事书。她觉得内容很滑稽,每次阅读时都哈哈大笑!"
"My 7-year-old daughter keeps re-reading the Little Dim Sum Warriors books. She thinks they're really funny, and she laughs every time she reads them."
"The students and staff at our school absolutely adore the Little Dim Sum Warriors books. They tick so many boxes for books that are in high demand by students and staff. They are funny, they are bilingual, and they are comic style picture books. Fantastic illustrations, brilliant text and a must have for all libraries!"
"Both my kids have been fans of the Dim Sum Warriors books for some time! This past Saturday, we spent a fun and creative morning at the online Jam drawing different emotions and learning the words for them. The kids were especially crazy over the final minutes when they could request whatever they wanted drawn. A very creative and meaningful way to spend the morning with the kids. I got to draw too!"
"The light-hearted performance by the Little Dim Sum Warriors had the audience entertained and educated at the same time."
The Dim Sum Warriors App gives plenty of freedom for practice: It's easy to toggle from one language to another, limitless possibilities to listen and re-listen to the stories / words, possibility to look into a keyword more closely, a chance to record and listen to your own reading, with good feedback from the solution about the pronunciation. The Dim Sum Warriors Curriculum has:
1. Extensive, detailed and yet easy to access materials for educators to ensure successful learning experiences for the students.
2. Visually appealing and easy to use digital application to support and diversify the learning process.
3. Learning through stories that happens naturally and supports a bi-lingual approach
"The boys are having a blast with the app. I've not seen my P2 (aged 8) read Chinese words so fast than at the sheep game!" 
"The app is user-friendly, inviting, and is rich with humor. Using multiple modalities, it serves as a pedagogical tool that provides readers of all ages the skillset they need to develop bilingual proficiency as well as biliteracy. It has a unique feature that promotes translanguaging and cultivates appreciation for visual arts."
"Easy to use, suitable for kids my child's age. Images are child-friendly, language is age-appropriate."
"Both of us really have a very good bonding time together when we began with reading the Dim Sum Warrior books as bed time stories, playing the app together, occupying her with the 'live' drawalong session & then doing the quiz together… We have so many topics in common!
"Deliciously funny and clever!"
"It has great stories that you can toggle between languages to help kids learn them, and has activities to reinforce the words you see in the stories."
"It's great because it can read to you and it can change the language and you can even record yourself reading the book." 
"We live in Colorado and I've always made sure that my son stays in touch with the Chinese language that I grew up with. There aren't a lot of casual and creative options for Chinese learning and so it was really fun for us to take part in the Dim Sum Warriors comic Jams! We can draw together and speak Chinese and English together in a stress-free experience. He is learning quite a bit, and he doesn't even know it. "