"In short, I would say it's peerless….Of course, it is possible to just buy the books, or just use the app.  However, the whole Club package, including the livestreams is what makes it so compelling.  It's incomparable to any app." Read the whole review
How Dim Sum Warriors Works
"Learning is most successful when it involves only a limited amount of stress, when students are relaxed and confident and enjoying their learning; but the use of correction encourages exactly the opposite condition."
– Professor John Truscott, Institute of Learning Science and Technology, National Tsing Hua University
Relaxed. Funny. Bilingual.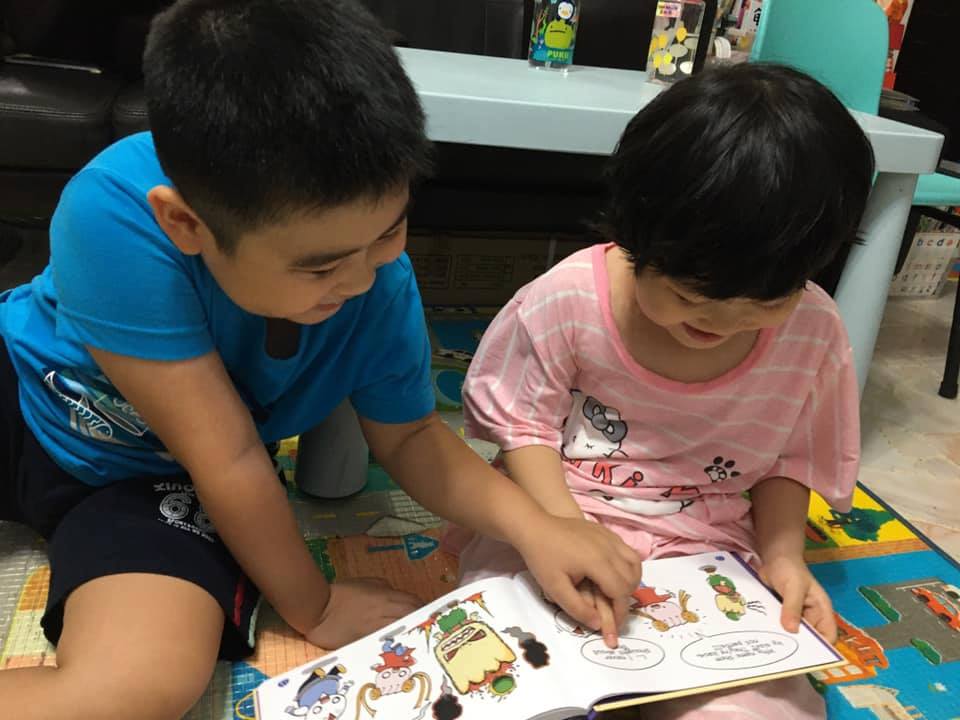 Stories
Dim Sum Warriors App delivers funny and engaging stories with adorable characters and expressive dialogue, so kids will willingly pick them up to read. Select titles available in print too!
Plus: the stories are supported by discussion questions, vocabulary lists, and much more supporting materials for parents and teachers like you!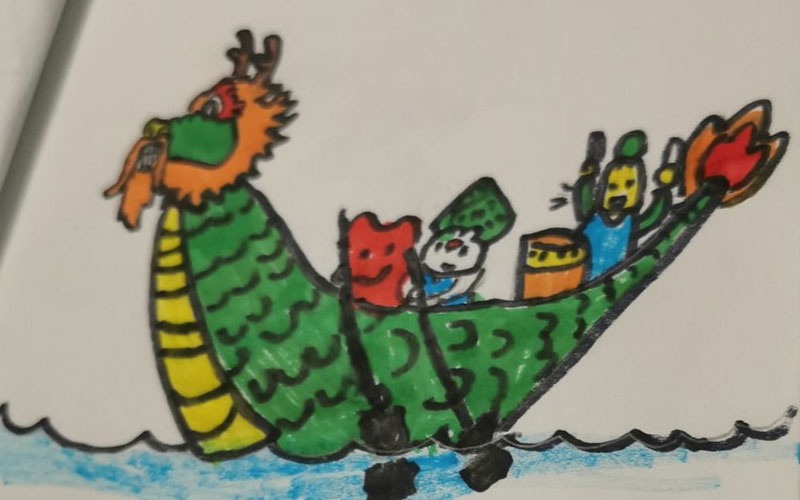 Videos
Young learners get to draw along to over 250+ bilingual drawing videos!
Drawing is enjoyable!
Drawing helps memory and focus.
Your kids will pick up art skills on top of the language by drawing together with our award-winning artist!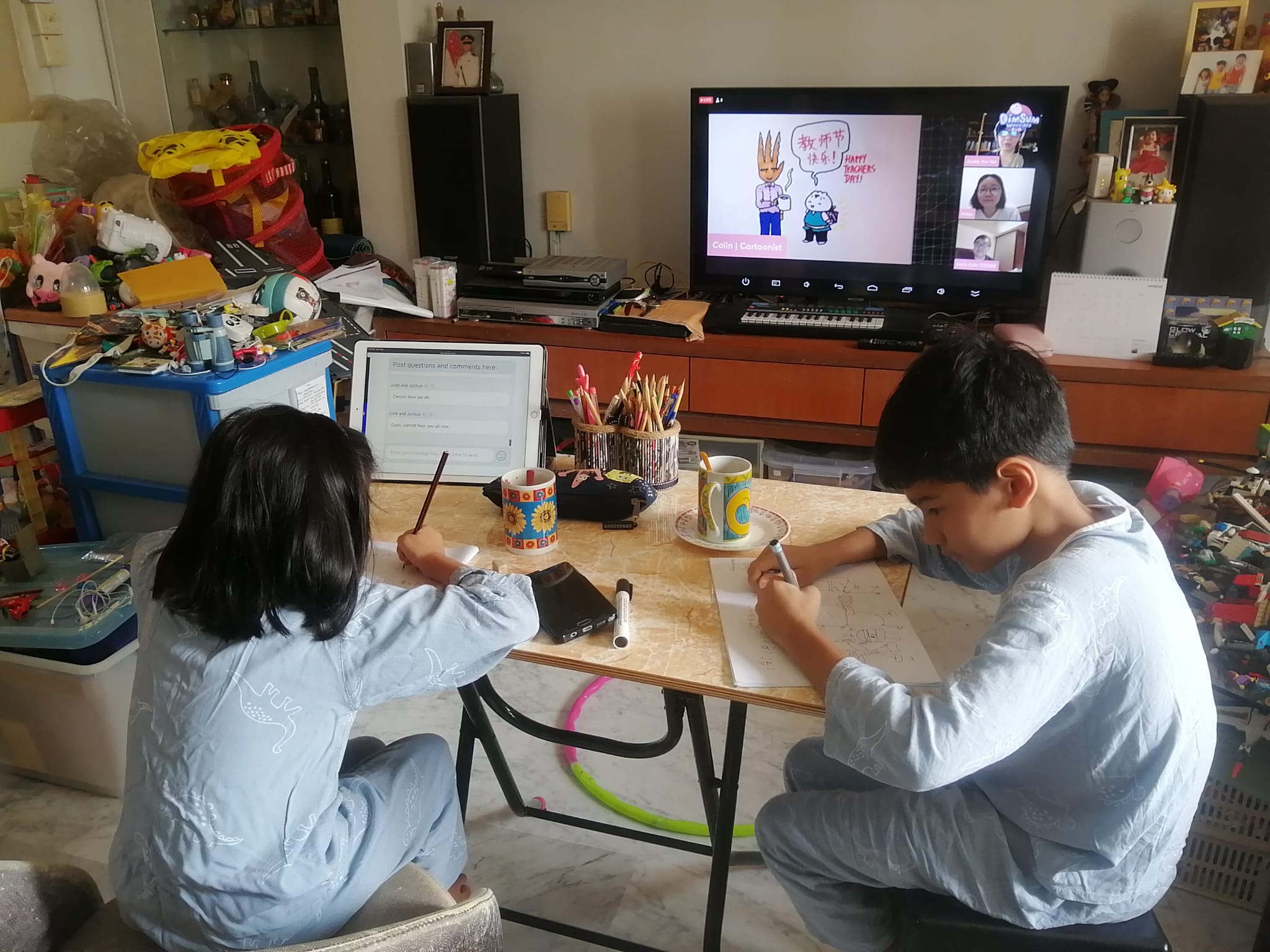 LIVEstream
Members get to interact, suggest ideas, and draw along with our Dim Sum Warriors artist and teacher.
Frequency: 3 Sats/ Month
Time: 9.30-10.15am
Free interactive bilingual livestream events are also available from time to time!
"It's great because it can read to you and it can change the language and you can even record yourself reading the book." 
"我七岁的女儿不停的重读《小小点心侠》的故事书。她觉得内容很滑稽,每次阅读时都哈哈大笑!"
"My 7-year-old daughter keeps re-reading the Little Dim Sum Warriors books. She thinks they're really funny, and she laughs every time she reads them."
"Joshua is so into 成语 time! What got him hooked was when Colin drew the snake with legs for 画蛇添足。it is so cute to see him running around the living room shouting, "It is 成语 time!" 
"My daughter looks forward to every single Jam session because she gets to learn things like how to draw different kinds of trees and what their names are called in Chinese. She uses the App to read the books in Chinese and English. I believe kids learn best when they are enjoying it and it's definitely the case with the Dim Sum Warriors sessions each week." 
"Both of us really have a very good bonding time together when we began with reading the Dim Sum Warrior books as bed time stories, playing the app together, occupying her with the 'live' drawalong session & then doing the quiz together… We have so many topics in common!
"We have been fans of the Dim Sum Warriors books for some time! We spent a fun and creative morning at the online Jam drawing different emotions and learning the words for them. The kids were crazy over the final minutes when they could request whatever they wanted drawn."
Upon finishing a story or book with kids, literacy experts recommend using questions for discussion to stimulate their critical thinking.
These questions are designed to assist children in making:
Personal connections: Can you relate this story to an experience you've had?
Inter-textual connections: Can you draw parallels between this story and another one you've read?
Real-world connections: Does this story resemble an event or situation in the real world?
For all the Dim Sum Warriors stores available on the App, our team of expert educators has crafted both Mandarin and English questions.
This ensures that PLUS and CLUB members can use them to initiate meaningful conversations with their children without having to think too hard.
Get a Club or Plus+ subscription to get discussion questions (and more!) for all our stories!
FAQ
Frequently Asked Questions
What makes Dim Sum Warriors different from other language-learning programmes?
Dim Sum Warriors aims to make learning enjoyable—because only this leads to sustainable engagement and long-term learning. (Learning shouldn't just be about passing exams!)
The heart of Dim Sum Warriors are funny comic stories that kids naturally want to read! (Also: research has shown that comics provide great contextual support for language learning.)
Ours is a multi-faceted approach—combining reading, speaking and creating. It's important to us that kids should feel they can be creative with their languages—that's why drawing and dramatic read-alouds are key features.
We have both digital (app, livestream, web) and tactile (print books) resources to provide a range of experiences.
Our approach is based on cutting-edge education research into literacy, pedagogy and translanguaging, and is designed by expert educators and award-winning creatives. We've been independently certified for pedagogical quality by Education Alliance Finland, the world's leading edtech impact verification agency.
What ages are the Dim Sum Warriors app and books for?
The Dim Sum Warriors app and books are designed for kids aged 5-11.
To get technical, they're suitable for 2nd Language Learners Grades K-3 (e.g. Chinese learners in Singapore); English or Chinese as an International Language Learners Grades 2-5 (e.g. English learners in Vietnam) or CEFR Levels A1+ to B1. We're also developing special materials for absolute beginners.
As a matter of general principle, though, we don't believe in reading levels. Here's why.
What happens during the livestreams?
The 45-minute Saturday Jam sessions include varied content like:
a 'live' read-aloud from a story in the App
exploring key vocabulary (including idioms 成语) and concepts in the stories through cartoon draw-alongs
Special themed units such as dinosaurs, sea creatures, robots, family trees, etc.
All content will be in Mandarin and English with supports for different levels of Chinese.
Club members have ranged from 6 to 11 years' old, while levels have ranged from foundational level to Higher Chinese level. The instruction is differentiated so students never feel intimidated.
Everyone feels welcome in the Club!
Are the livestream sessions interactive?
Yes! You suggest ideas through the chat function.
Club members can feel safe and relaxed as the video camera is not trained on them, yet they can still suggest ideas or make comments through the chat function.
Every month, we hold a short Zoom session after the Saturday Jam where Club kids can show us (and each other!) their art.
How do I get ready for the livestream?
Find a regular spot in the house to draw along with the livestream!
Make sure there's enough space for your drawing supplies. Club members have watched the livestreams on their iPads, on laptops, desktops and even cast to their TV sets. When you are on the road, you can watch the livestream on your mobile device.
The whole family is welcome to draw along!
How do I access the videos?
Just log in!
Plus+ members can't participate in the livestreams, but they can access video recordings of the sessions on the website, just ike Club members. Over 100 hours of videos to choose from!
If I have multiple PC/mobile phones/tablets, will I need a Dim Sum Warriors membership for each device?
No, you can use one Dim Sum Warriors Club or Plus+ membership on up to 3 devices.